Hola!  Lauren here to recap our successful National Tourism Week luncheon that took place several weeks ago at
A La Carte Event Pavilion
.   A La Carte is the perfect place for an event our size - nearly 500 guests.  The staff makes the planning process so simple and painless and they are so creative!  I didn't know this until we were planning this luncheon, but A La Carte Event Decor and Design handled all of the floral arrangements and design for our luncheon.  The centerpieces looked great and were creative.  I loved them because all of the same flowers were used in my bridesmaids' bouquets at my wedding.  :)  
Our luncheon would not have been so successful without the support from our very generous partners, which include
Bay Stage Lightning Co
.,
AVSS
,
Entertainment Revue
,
Panache...Classic Party Rentals
 and
David Wright Photograhy & Productions
.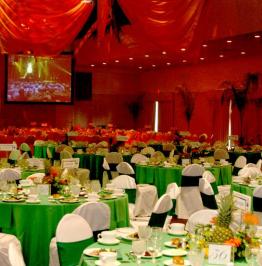 Jack Harris did a great job emceeing the event.  He never sticks to the script, but always makes it interesting and funny.  Each year, we usually honor an outstanding invidividual who contributes to the economic development of Hillsborough County through tourism.  This year, we decided to honor the entire Glazer family and the Tampa Bay Buccaneers for the role they played in bringing the 2009 Super Bowl to Tampa Bay.  Bryan Glazer attended the luncheon along with Bucs General Manager Mark Dominik. 
We also honored several front-line hospitality industry employees with the Bern Laxer Awards of Excellence.  The recipients were nominated by their managers for these awards.  We had nearly 500 people in attendance so it was a great event.