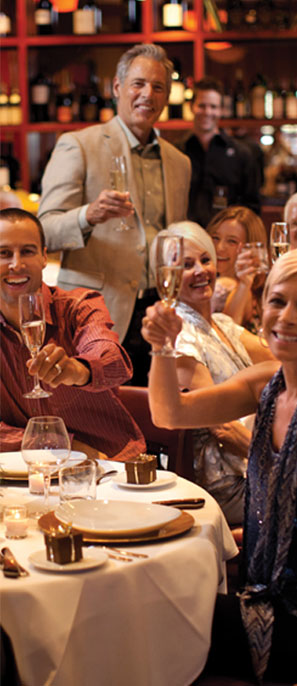 Hello all! My name is Emily Minton and I am the Private Dining Director here at Fleming's Prime Steakhouse & Wine Bar to tell you about a great promo that we are doing!
With an inviting ambiance, exceptional food and a world- class wine list, Fleming's is the perfect place to host a holiday event for your family, organization or business:
Holiday Celebrations
Cocktail Receptions
Private Luncheons    Company & Office Parties
All-Day Business Meetings
Birthdays & Anniversaries
In the spirit of the season, we're offering a $50 Fleming's Dining Card for every $500 you spend on your event when you book it by December 1st. And if you're really good at planning ahead, you can use this offer for any event you hold through December of 2012!
As the Private Dining Director at Fleming's, I will assist you personally in planning your holiday event, from menus and wines to decorations and other details. That way, you can relax and enjoy the company of your guests.
Remember, you must book by December 1, 2011, to take advantage of this offer. Call me at 813-874-9463 or contact me by email to secure the date for your holiday event.
For menus, wine lists and a 360° tour of our Private Dining rooms, please feel free to visit our website.
I look forward to the pleasure of welcoming you and your guests to Fleming's this holiday season! That's all for now, but be sure to check back and stay tuned in for more Tampa Bay dining updates from me and the Tampa Bay team!