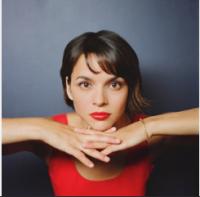 Hello there everyone, Jerm here with an update on an awesome show coming to the
David A. Straz Jr. Center for the Performing Arts
this Wednesday!
Norah Jones
' 2002 debut album
Come Away With Me
won eight Grammys®, including album of the year, best new artist and best female pop vocal performance for Jones, and record of the year for the album's bluesy single, "Don't Know Why."
Now this Grammy award winning superstar will descend on Tampa Bay this Wednesday at the Straz Center for Performing Arts
Everyone must be excited about this one guys, because not only are ticket sales going well, but people are even starting rumors! Rumor has it that tickets for the show are already sold out, but have no fear as Jerm is here to dispel that rumor!
I can't reveal my source exactly, but a little birdy told me that there are indeed tickets left, so I expect for you stop reading this blog right now and head over to the Straz Center box office or website and
get your tickets now!
Stay tuned in for more updates from Jerm on arts and culture in Tampa bay related events at the Straz Center, as well as info on Tampa Bay area events!