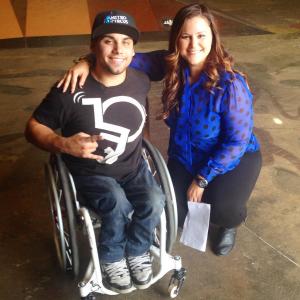 Nitro Circus Live will be kicking off their 2015 tour in Tampa at the Amalie Arena on May 5th and then continue to travel throughout the country visiting 14 cities. 
Nitro Circus Live, the action shorts spectacle that is a worldwide phenomenon, features more than 40 of the world's best action sports athletes performing daring and record-breaking tricks in freestyle motocross, BMX, and skateboarding.  With heart-pounding action also comes with hilarious and unique stunts that include contraptions such as water coolers, rocking horses, a lazyboy couch and more. 
Pre-sale tickets are now on sale and can be purchased through www.nitrocircus.com .
In prepping for the 2015 Nitro Circus Live tour we had the chance to catch up with one of the world's best extreme wheelchair athlete, Aaaron "Wheelz" Fotheringham while he was in Tampa.  He has a handful of "World Firsts" that include: World's First Wheelchair mid-air 180, World's First Wheelchair Backflip and Double Backflip and World's first wheelchair frontflip.  This guy has done it all and will be touring with Nitro Circus Live for another year and is a fan favorite!  While catching up with "Wheelz" he told us about how he got started, what inspires him and gives us a sneak peek inside what we can expect for Nitro Circus Live in 2015!
You don't want to miss this global action sports spectacle coming to the Amalie Arena in Tampa on May 5, 2015.