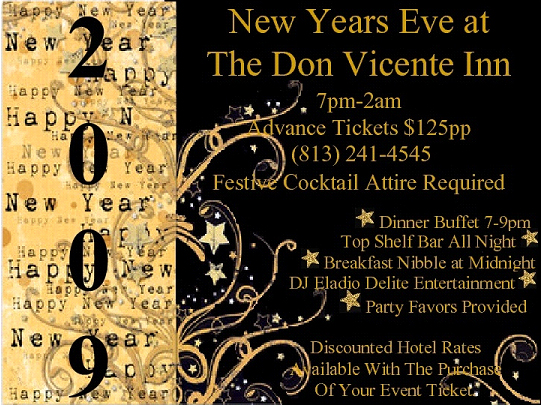 Hey everyone!  Travis back with some great Tampa Bay entertainment for New year's eve!  We're heading to Ybor City for this one to one of the best Tampa Bay hotels around. 
New Year's Eve at the Don Vicente is going to be tons of fun!  From 7pm to 2am, you can party straight in to 2010. 
Enjoy a dinner buffet from 7-9pm, a top shelf bar all night long, a breakfast "nibble" at midnight, entertainment from DJ Eladio Delite, party favors and much more. 
Plus, if you register for the party, you'll get discounted hotel prices.  Oh, and festive cocktail attire is required! 
Tickets are $125 per person, but look what they get you!  Just call 813-241-4545 to register for this amazing event!  And of course, keep checking back here as we bring you the best Tampa Bay area events to bring in the new year, and other great things to do in Tampa Bay.