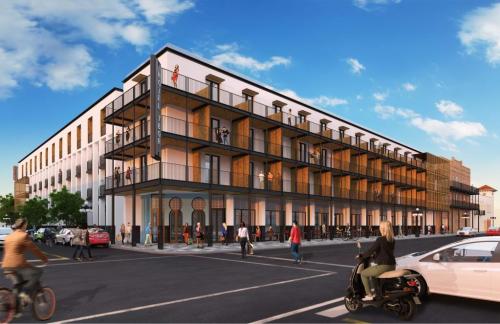 Developers planning a new four-star hotel in Ybor City, Tampa Bay's historic Latin Quarter, won approval from the City of Tampa's historic preservation officials this week.
As planned, the 180-room hotel would fill a city block on the western end of Ybor City at Seventh Avenue and North 15th Street. The design envisions balconies and other amenities that would mesh with Ybor City's existing 19th Century architecture. As this point, the hotel doesn't have a brand.
According to the Tampa Tribune, the developers see promise in their project and in the neighborhood.
"This is new ground for everybody," said Alex Walter, an owner of Walson Ventures LLC, one of the partners backing the project. "We're really trying to expand the community, and this is a sign the neighborhood and the Tampa community is saying they are ready for it."
The hotel's chief architect, Alberto Alfonso, has designed projects in Ybor City and across Florida. He's one of several people involved in the project who have deep roots in the community, the historic heart of Tampa Bay's immigrant population. For decades, those immigrants made Ybor City the world's hub of cigar manufacturing, producing millions of cigars by hand. While Ybor City still prides itself on its hand-rolled cigars, lately it has become the local hub for a new hand-made favorite: craft beer. Ybor City is home to Cigar City Cider and Mead Co., Tampa Bay Brewing Co., Coppertail Brewing Co., and, soon, Rock Brothers Brewery.
According to the Tribune:
[The] designers envisioned a project that brings new life to Ybor City but also pays homage to and celebrates the classic Havana and Tampa architecture of the neighborhood. Backers plan to resurrect Las Novedades, one of Tampa's original restaurants, at a space in a four-story hotel wrapped in balconies overlooking the street.
The new project will be the fourth hotel in Ybor City. The district already is home to the historic Don Vicente de Ybor Inn, named for the district's cigar baron founder, along with the Hampton Inn Tampa Ybor City and the Hilton Garden Inn Tampa.
Groundbreaking on the new hotel could come this summer.