Hello soccer fans! Fresh off of watching the opening game for the 2010 FIFA World Cup, Jerm is here with an update for ya!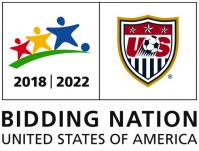 The USA Bid Committee just recently
re-launched their website
! Its got a ton more features now, allot of which have to do with the games going on in South Africa right now! Here are just a few of the new features that I noticed:
Upcoming game schedule for all matches
Team pages
latest news and photos about the S. Africa games
Twitter feeds and updates
Photo sharing uploads from watch parties
I am sure there are plenty of other features on the new site you can take advantage, so be sure to go and check it out for yourself at www.GoUSABid.com! While your there, please do not forget to show your support for
Tampa Bay's FIFA World Cup Bid
!
Also, to vote for Tampa Bay to host the World Cup, text TAMPABAY to 22442 (message and data rates apply). Then, spread the word to friends, family, colleagues, coworkers and others to let them know how important this is to our destination!
That's it for now folks, so stay tuned in for more USA World Cup Bid updates from Jerm and the rest of the crew!