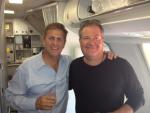 Hi everyone!  Travis back with some exciting news.  In case you haven't heard, the newest international flights out of Tampa International Airport start today!!! 
Edelweiss Airlines will now be flying weekly in to Tampa International Airport providing direct service to Zurich, Switzerland!  Has anyone ever been to Switzerland before?  Tampa Bay & Company actually sent its President/CEO Kelly Miller over to Switzerland earlier this week to be on the inaugural flight over to Tampa International Airport. 
In addition to Kelly, Tampa Bay was well represented with representatives from the Tampa/Hillsborough Economic Development Corporation, as well as Visit St. Pete/Clearwater, and others.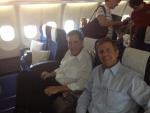 This is exciting news for our destination and an opportunity to welcome visitors from Switzerland and show them how warm our hospitality is.  In case you haven't seen it, the Tampa Bay Business Jouranl has a story about the new flights.  Just click here to take a look. 
If you see visitors from Switzerland (or central Europe), make sure you welcome them to Tampa Bay...I have a feeling you'll be seeing more and more of them!! 
We'll be back with more Tampa Tourism information soon, not to mention great things to do in Tampa Bay, but congrats Tampa Bay!!!