Hi everyone.  Travis here with some delicious information about dining in Tampa Bay.  For those of you who have been to Season's 52, you know how amazing it is.  And if you haven't been, put it on your list of things to do as soon as possible!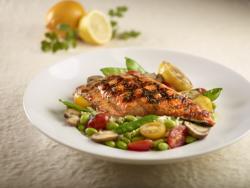 Season's 52 will be launching their new Spring menu on March 20, which means you'll have some great new options to choose from.  We just got this info directly from them, so we're sending it to you:
Known for its seasonally inspired menus and fresh approach to dining, Seasons 52 meets the demands of today's culinary-savvy consumer, offering a complete dining experience with great tasting foods and positive lifestyle benefits – a concept that is "right for the times." 
"During the spring, farmers' markets and grocers are full of fresh, vibrant produce such as rainbow carrots and vine-ripened tomatoes," said Cliff Pleau, Senior Director of Culinary at Seasons 52.  "We are inspired by these bright spring flavors to create memorable dishes that excite the palate. By pairing them with fresh foods, such as Columbia River Steelhead Trout, and using natural cooking techniques like wood-fire grilling, Seasons 52's menu delivers flavorful, thoughtfully-prepared dishes for spring."
Guests will delight in new spring menu items including:
• Artichoke & Goat Cheese Flatbread – with leaf spinach, balsamic onion and roasted peppers
• Artichoke-Stuffed Artichoke Leaves – with organic arugula, Parmesan cheese and balsamic glaze
• Tomato & Haas Avocado Salad – with organic arugula, balsamic glaze and grilled bruschetta
• Columbia River Steelhead Trout – with spring vegetables, basmati rice and lemongrass sauce
• Spicy Snow Peas & Shiitake Mushrooms – with roasted almonds
• Lamb T-bone Chops – with asparagus, truffle mashed potatoes and red wine glaze
• Tiger Shrimp Penne Pasta – with spring asparagus and oyster mushrooms in a light lemon-basil sauce
In addition, two new cocktails will be featured on the spring menu – Strawberry Kir Royal (Fresh Strawberry-Infused Prairie Organic Vodka, Organic Agave Nectar and Zardetto Prosecco) and Strawberry Basil Fusion (Fresh Strawberry-Infused Prairie Organic Vodka, Fresh Basil, and Organic Agave Nectar). 
Master Sommelier George Miliotes has also updated his "Drink These Before They Become Famous" list, a handpicked selection of must-try wines for the season.  This season's selections include:
• Aveleda Vinho Verde, Portugal '10/'11 – Crisp and light with just a hint of sweetness and sparkle, this varietal it is the perfect aperitif wine to enjoy with an assortment of flatbreads.
• Lioco Indica Rosé, Mendocino '11 – A totally natural wine with lovely aromas and flavors of ripe, red raspberries and strawberries and a pleasantly dry finish; goes with just about everything on the menu.
• Zardetto Prosecco, Treviso NV – Everyone loves Prosecco! Produced in the northeast of Italy, this is one of the finest sparkling wines and tastes excellent alone or with a dash of fruit juice. 
• Botani Moscatel, Sierras de Málaga '10 – Neither sweet nor dry, this Spanish wine is packed with fruit flavors and a round finish.  It pairs beautifully with white fish or shellfish.
• Allegrini Palazzo della Torre Corvina Veronese '08/'09 – Supercharged with a second fermentation from dried grapes, this wine is medium bodied but with a long and potent red fruit finish – a perfect accompaniment to any meat dish, from pork to lamb.
Seasons 52 changes the menu four times a year with weekly fresh features to truly capture the flavors of the season. Each valued guest can be guaranteed the highest quality fresh food, prepared without compromising great taste or a rich and complete dining experience. Nothing on the menu is more than 475 calories, from the signature flatbreads and appetizers, to all entrees and its popular mini indulgence desserts.
Now, I don't know about you, but my mouth is already watering.  Like I said, this is a great place to go get some amazing food, so make sure you stop by.  If you've been there before, let us know what you thought! 
We'll see you back here for more dining information, not to mention great things to do in Tampa Bay!