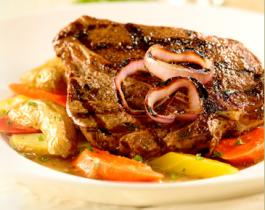 Hey Tampa! Kristin here to tell you about Seasons 52 new Spring menu! Check out the highly acclaimed fresh grill and wine bar restaurant, known for keeping your healthy eating patterns in check! The menu at Seasons 52 is based off the idea of the Farmer's Market 52 weeks a year, and the freshness it has to offer.
The menu has a wide array of new items that you must check out! The artichoke and goat cheese flat bread, with leaf spinach, balsamic onion and roasted peppers. Artichoke- Stuffed Artichoke Leaves, with organic arugula, parmesan cheese and balsamic glaze.
Lamb T-bone chops with asparagus, truffle mashed potatoes and red wine glaze. Tiger Shrimp Penne Pasta, with spring asparagus and oyster mushrooms in a light lemon- basil sauce.
Two new cocktails will be featured on the new spring menu as well. The Strawberry Kir Royal, fresh strawberry- infused prairie organic vodka, organic agave nectar and zardetto prosecco.  The Strawberry Basil Infusion, fresh strawberry- infused prairie organic vodka, fresh basil, and organic agave nectar.
The new menu is featuring must- try wines for the season.
Some of the selections include the following; Aveleda Vinho Verde-Protugal, Lico Indica Rose- Mendocino, Zardetto Prosecco- Treviso NV, and Botani Moscatel- Sierras de Malaga. I'm sure that you will be able to find a wine fitting to your palette!
Seasons 52 guarantees you the freshest high quality meal possible, with menu changes four times a year fitting to the change in season. Nothing on the menu is more than 457 calories! This is the perfect experience for the healthy lifestyle most are looking to attain.
For more information visit seasons52.com, and stay tuned in for more Tampa Bay dining udates!