The month of October was a busy month in Partnership with 15 new partners - 4 of them are restaurants!  Who doesn't love to eat???  Check out these new restaurants and let them know Tampa Bay & Company recommended them:
Brio Tuscan Grille
just opened up at International Plaza's Bay Street.  They have fabulous Italian cuisine and are open for lunch, dinner and weekend brunch.  Brio just opened their doors a couple weeks ago and they are ready to serve you!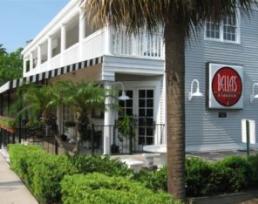 Bella's Italian Cafe
in the SoHo district on S. Howard just joined as a partner of ours also.  Bella's has great pizzas, pasta & salads.  The asparagus soup is my favorite. They have a cute little patio with outdoor seating, which is great this time of year.  
Kona Grill
is also a new partner of ours and a brand new restaurant in Tampa.  They haven't even opened yet, but will soon.  Kona Grill is across the street from International Plaza by Roy's, Fleming's & Lee Roy Selmon's.  They serve American and Asian cuisine. Their menu makes my mouth water. Can't wait to eat there! 
Last, but not least is
Chez Bryce - The Island Bistro
on Davis Islands.  Chez Bryce offers lunch, dinner and Sunday brunch all prepared by Chef Bryce himself.  Bryce used to live in France and studied there so needless to say, the food is amazing as is the atmosphere.  They have a great outdoor courtyard with live entertainment on the weekends.  They also cater for parties and have a private dining room available.   
Stay tuned for more info on Tampa Bay Dining options and the Tampa Bay nightlife scene!