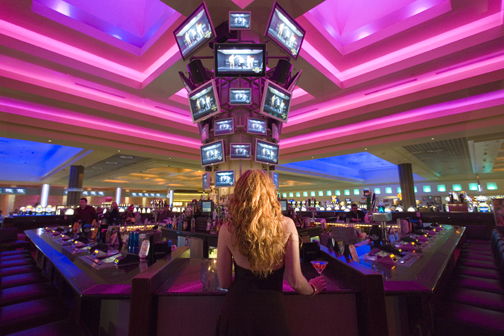 Hello everyone, Jerm here with a welcome update for you after work happy hour-goers like myself!
To make your work week a little happier, the Center Bar at
Seminole Hard Rock Hotel & Casino
now offers patrons the thirst-quenching flavors of summer every Wednesday at bargain basement prices from 4 p.m. to 7 p.m. during this month and August. 
Guests can indulge in 50 percent off Mojitos and Margaritas; in July $2.50 for Bud Light Lime, $2.50 for Coors Lite during August. Yes please!
These special casino promotions in conjunction with Happy Hour Wednesdays are: July Spin To Win 2 p.m. – 9 p.m., and August Mystic 8 Ball 2 p.m. – 9 p.m.
The Center  Bar is easily found in the middle of the casino floor – just look for the signature tower of  flat screen TVs rockin' out with your favorite music videos. It's tended by the beautiful Hard Rock Girls and open all day and all night, except Saturdays and Sundays, when it's closed 5 a.m. – 8 a.m.  Be sure that when you go by there, make sure you tell them Jerm sent you, and say hi to Kellie for me! She makes a mean Vodka Cranberry!
That's it for now folks, but be sure to tune in regularly for additional updates on Tampa Bay nightlife and things to do in Tampa Bay from Jerm and the Tampa Bay team!