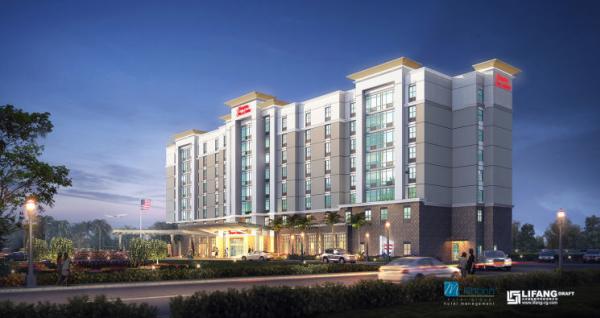 There'll soon be a new Hampton Inn & Suites in Tampa Bay.
Tampa Bay-based McKibbon Hotel Group broke ground this week on a 178-room hotel in Avion Park, part of Tampa Bay's West Shore District -- a hub for hotels and high-end shopping near Tampa International Airport. The new hotel is going up in Avion Park due south of the airport. The area is home two three other hotels -- Homewood Suites by Hilton, Hilton Garden Inn Tampa Airport and TownPlace Suites Tampa Westshore/Airport. It's also home to the BioSpine Institute, A1 Express remote airport parking and a future World of Beer.
The Laser Spine Institute, which now has offices in the Rocky Point area just west of Tampa International Airport, is building a $56 million headquarters building in Avion Park as well.
John McKibbon, whose company is developing the new Hampton Inn & Suites and Avion Park, said the 110,250-square-foot hotel will serve the Laser Spine Institutes's patients and families.
The strategy is part of a larger one aimed at bringing medical tourism to Tampa Bay and the state in general.
"We hope to expand medical tourism in this part of Tampa Bay," said Santiago Corrada, president and CEO of Visit Tampa Bay. "And we plan to bid to host the 2019 or 2020 Super Bowl, which West Shore will play a major role in."