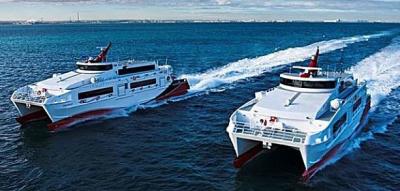 Visitors and locals will soon have a fun new way to get around the Tampa Bay region -- and do it with a water view to boot.
As of this week, the final votes are in on a plan to run a high-speed ferry between downtown Tampa and downtown St. Petersburg 20 miles across the bay.
The 98-foot vessel will carry up to 149 passengers. It will dock at the Tampa Convention Center on the Tampa side of the bay and in the Vinoy Basin on the St. Petersburg waterfront.
Plans call for operating the foot ferry on a trial basis from November to April. If it's successful, the test could become a permanent fixture.