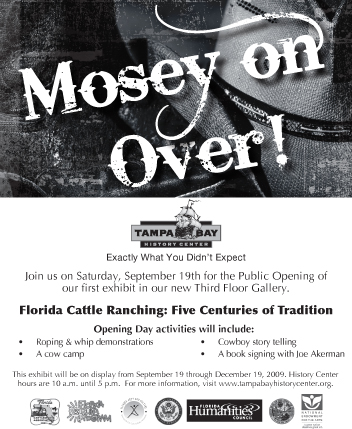 Hey everyone!  Travis back with some great Tampa Bay entertainment for the whole family.  We are going back in time at the Tampa Bay History Center this time.  Here are all of the details:

The Tampa Bay History Center will debut its new third-floor, 2,000-square-foot temporary exhibit gallery with Florida Cattle Ranching: Five Centuries of Tradition!  It debuts this Saturday, September 19th and continues through December 19.

Florida Cattle Ranching chronicles the history and culture of one of Florida's oldest industries. Southern pioneers, Florida "Crackers" and Florida Seminoles all play a part in Florida's ranching legacy, which began when Spanish explorers brought cattle and horses to Florida in the 16th century.

To date, cattle ranching remains an integral part of the state's economy.  This exhibit features oral histories, Florida folk music, cowboy art and documentary footage. 

The History Center will celebrate the launch of their first traveling exhibit with a public opening on Saturday, the 19th.  Opening day activities will include whip-making demonstrations, children's activities, and a book signing with author Joe Ackerman. 

Like we said, the exhibit is on view through December 19th at the Tampa Bay History Center, right here in downtown Tampa!  Viewing for the "Florida Cattle Ranching" exhibit is included in the general admission ticket price.

Of course, you can go to their website for more information - www.tampabayhistorycenter.org.  So, get out there and explore some of Tampa's History! 

And of course, keep checking back here for more great things to do in Tampa Bay!