Hello everyone, Alex back with some more arts news…
The
Museum of Fine Arts
has opened a new exhibit,
Ancient Egypt- Art and Magic: Treasures from the Fondation Gandur pour l' Art.


The exhibit features 100 works that embody every aspect of the craftsmanship of Ancient Egypt.  The MFA is the first to bring an exhibition of this magnitude to the United States, and it offers great insight on Ancient Egypt.
Some other events that are part of this exhibit are:
Eye on Ancient Egypt- December 26-31, 2011

• Monday, December 26: Pyramids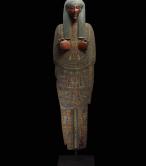 • Tuesday, December 27: Mummies
• Wednesday, December 28: Sphinx
• Thursday, December 29: Women of the Nile
• Friday, December 30: Dig it!
• Saturday, December 31: Celebrations along the Nile
Egypt Gala- December 30, 2011


Enjoy the newest exhibit at Museum of Fine Arts and some of the activities surrounding the exhibit!
For more information on the Museum of Fine Arst, contact Patrick Harrison at 813.598.9169.
Enjoy your week and check back often for more information on the Arts and Culture in Tampa Bay!