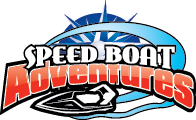 The BEST weekend EVER-Thanks to Speed Boat Adventures!
Let me be the first to say, I've never driven a speed boat, unless it was at an arcade; second I was responsible for another human being, so the pressure was on.  WE Survived!
As a beginner, I made sure that we (passenger and I) were strapped in our life vest, tightly; and then our captain led the way, as we began the tour.  This guided tour began with narration of the area, we passed houses priced from hundreds of thousands to the multimillion dollar homes (I must confess I did daydream for a while).
Once we reached the Bay it was, "Pedal to the Metal!"  Off we went; Im laughing and screaming at the same time. Picture this, the nose of the boat kissing the sun (ok, maybe not so much, the nose of the boat was pretty high), a real adrenaline rush . The captain gave us some history of the area and insight of the future of the Bay. We even rode past the Bird Sanctuary, which is a small island, covered wth tons of trees, the only way to reach the island is by boat; the captain did say it is punishable by law if anyone is found at the sanctuary. 
The captian then said "Switch," the passengers moved into the driver seat. Once again it was time to test the speed of the boat, this time we made circles and zigzag's in the Bay, so much FUN!  
It all came to an end 2 hours later, I'm glad this was the way I spent my Saturday! This attraction blew my expectations out of the water (literally).
If you have not experienced Speed Boat Adventures, you are truly missing out on a SWEET TREAT. Next time you're in St. Petersburg stop by Speed Boat Adventures, I promise you'll have a blast!
Click here for more information on tour times and rates.