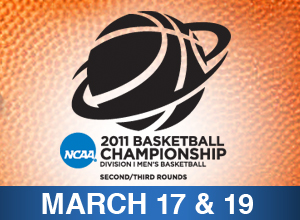 Hello there gang! Jerm here with a quick update for all of you college basketball fans! We're counting down to the tip-off for some high flying NCAA college basketball here in the Tampa Bay area this week!
This Thursday the 2nd and 3rd Rounds of the
NCAA Men's Basketball
tournament will get going at the St Pete Times Forum, as teams fight their way to the coveted Championship trophy!
The teams arrived yesterday, will be holding practices throughout the day today before game times start on Thursday!
Practices held on the day prior to the Second Round games are open to the general public and media.* Parking will be free in the East and West parking lots of the St. Pete Times Forum on Wednesday. If you are looking to get out and see our teams practice before the big game, all of them will be doing practice sessions open to the public. If you can make it, please do so! See below for a list of practice times for each school:
OPEN PRACTICES: (WEDNESDAY, MARCH 16) 
Noon - 12:40 p.m.   
Princeton
12:45 - 1:25 p.m.   
UC Santa Barbara
1:30 – 2:10 p.m.   
Kentucky
2:15 – 2:55 p.m.   
Florida
4:25 – 5:05 p.m.   
UCLA
5:10 – 5:50 p.m.   
West Virginia
5:55 – 6:35 p.m.   
Michigan State
6:40 – 7:20 p.m.   
UAB/Clemson - TBA
Well folks that's all I got for now, but be sure to check back with us as we draw closer to the event for more updates on NCAA related things to do in Tampa Bay and Tampa Bay sports updates!