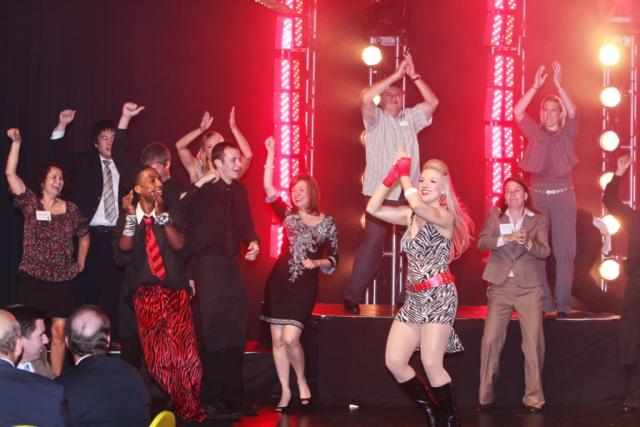 Tampa Bay & Company celebrated National Tourism Week last week with several events in the area.  May 8-16 was annually recognized as National Tourism Week, a tradition first celebrated in 1984 by US Travel Association.  Cities, states and travel businesses nationwide host localized events to champion the power and economic impact of travel on local communities. 
AAA Travel
sponsors Tampa Bay's National Tourism Week events each year - thanks AAA! 
Tampa Bay & Company hosted our National Tourism Week Luncheon on May 11th, at
A La Carte Event Pavilion
.  With nearly 500 guests in attendance, we had a great time watching entertainment from
Dorene Collier's Event Show Productions
, including Belinda Womack singing the National Anthem!  We even had guests from the audience storm the stage and dance with some of the performers - very fun to watch!  We also recognized staff from the Tampa Police Department for their hard work during our Republican National Convention Site Visit.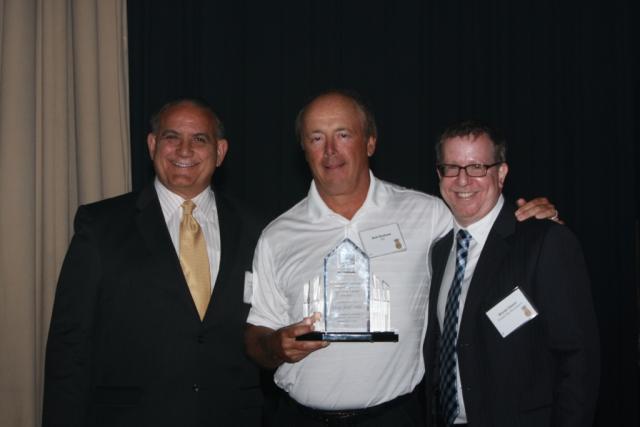 Bryan Glazer, owner of the Tampa Bay Buccaneers, was there to present Bob Basham, with OSI, with our Gonzmart Family Ambassador of the Year Award.  Bob along with Chris Sullivan started Outback Steakhouse and is dedicated to giving back the community. 
Six front-line, hospitality employees were recognized and awarded the Bern Laxer Award of Excellence for their exemplary service to visitors and guests.   Mayor Pam Iorio and Commissioner Ken Hagan were able to join us and speak at the luncheon.  Bill Ratliff was our emcee who recognized other elected officials who were in attendance. 
It was truly a great event and the positive feedback we've received is wonderful to hear.  The entire luncheon would not have been possible without our absolutely AMAZING partners -
Bay Stage Lighting Co
.,
conceptBAIT, inc
.,
Audio Visual Support Service, Inc
.,
Event Show Productions
, & 
A La Carte
.  I can't say enough about what a great team we had working on this event.  THANK YOU!  
Immediately following the luncheon, we had a group head to
Tampa International Airport
for our Tourism Rally in conjunction with Visit St. Pete/Clearwater.  Tourism officials spoke about the impact of tourism on our local economy. 
Busch Gardens
' Shieks were there to entertain the crowd...they always get me dancing.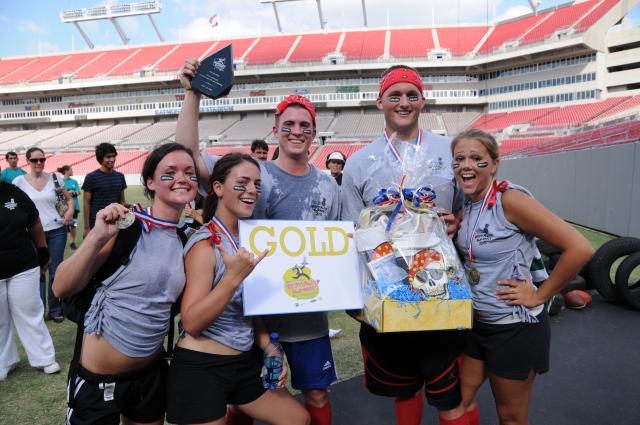 On Thursday, May 20th, we hosted our 7th Annual Hospitality Olympics on the field at
Raymond James Stadium
.  The olympics allows industry personnel the chance to network and meet others in their respective fields during this quirky, fun-filled event. 
Teams from throughout Tampa Bay will competed in games such as the Water Waiter Relay, Toilet Paper Toss, Tacky Tourist Trot and Touchdown Tampa Championship Challenge.  Splitsville employees took the gold.  Way to go teams! 
If you missed the events this year, be sure to join in the fun in 2011, and stay tuned in for more Tampa tourism and Tampa Bay area events!