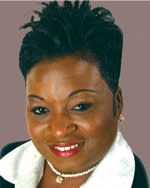 This is Linda Mummert here with some exciting news from our Convention Sales Department.  Our own National Sales Manager Sherri Brown has been recognized as one of the Top 50 Black and Latino CEOs and Corporate Executives in the Tampa Bay region!  The Power Broker magazine, the Small Business Development Center and others have teamed up to publish the exclusive Top 50 magazine highlighting the honorees.  

This is the first time in bay area history that the African-American and Latino communities are uniting on the media stage to reach the largest minority readership ever targeted by a publication in the region.

In addition to being featured in The Power Broker magazine, Brown will also be featured in the digital magazine, the weekly PB e-zine, on The Power Broker website, and through various social media channels.  

Congratulations Sherri!
Over and out for now until next time.... stay tuned in for more updates on Tampa Bay Meetings!