Hi guys... Julian back again with a really cool event that is a "must see" for everyone!! For the 4th year in a row downtown parking spaces are being turned into mini-parks for the day this Friday, September 17.
The Tampa Downtown Partnership
has partnered with
SuperTest
, a local arts organization, to participate in
National Park(ing) Day - an annual global event meant to transform urban environments designed for vehicle use into a communal space for public use.
Six PARK(ing) space installations were designed by local artists and will be on display along the Franklin Street corridor in the parking lot bordered by Zack, Twiggs, Franklin and Tampa Streets.  The spaces are being donated for the day by Seven One Seven Parking Enterprises. Visitors will be encouraged to walk or bike to visit and relax in the Tampa PARK(ing) Day "parks".  
Installations will be accessible from 11am - 7pm, Friday, September 17th followed by an after-party at Fly Bar and Restaurant.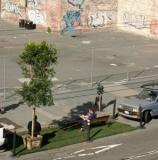 PARK(ing) Day is a annual open-source global event where citizens, artists and activists collaborate to temporarily transform metered parking spaces into "PARK(ing)" spaces: temporary public places. The project began in 2005 when Rebar, a San Francisco art and design studio, converted a single metered parking space into a temporary public park in downtown San Francisco. Since 2005, PARK(ing) Day has evolved into a global movement, with organizations and individuals (operating independently of Rebar but following an established set of guidelines) creating new forms of temporary public space in urban contexts around the world.
The mission of PARK(ing) Day is to call attention to the need for more urban open space, to generate critical debate around how public space is created and allocated, and to improve the quality of urban human habitat … at least until the meter runs out!
WOW! Check this event out! And keep coming back here to learn about exciting events like this one and more things to do in Tampa Bay!