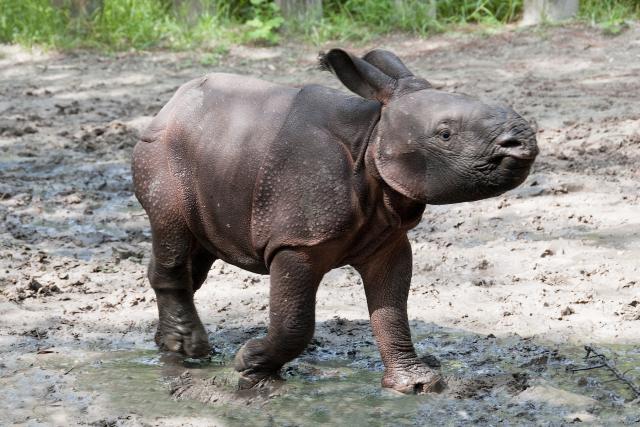 Hey everyone!  Travis here again with some cool news.  Tampa's Lowry Park Zoo is giving everyone the opportunity to help name the 3-week-old endangered Indian rhinoceros (also known as the great one-horned rhinoceros)! 

The Indian rhino birth is certainly a significant conservation milestone for the Zoo and for this endangered species, with less than 60 Indian rhinos living in AZA-accredited zoos in North America.

The calf is not yet named, but the Zoo has launched a naming contest on its web site for the entire online community to participate in.  Click here to go and vote! 

A selection of Hindi names -- starting with the letter J in honor of mother Jamie -- are posted online.  Take a look -

Jaba (jeh-ba)"a flower or hibiscus"
Jahki (jaan-kee)  "of the earth"
Jama (jeh-ma) "daughter"
Janya (jahn-YAH) "born of the earth"
Jaya (JAY-ah) "victory or victorious"

The female calf will receive the name with the most votes; one vote per email address.  Voting will continue through August 14.

So, make sure you head over to the website and vote now...which one will it be?  Any guesses? 
Until next time, get voting, and keep checking back as we bring you some of the best Tampa Bay area events, and other great things to do in Tampa Bay!