Hey Tampa Bay, It's Jodi to tell you about my latest theater adventure. I saw Cats at the
David A. Straz, Jr. Center for the Performing Arts
.
Cats has always been one of my favorite musicals; I drove my family crazy playing and replaying the DVD. However, there is nothing like seeing it live. Cats has a sort of magic to it that many musicals don't. For one, you really feel like you've entered another world, the cats seem hesitant at first to let you in on their Jellicle ball but they warm up to the audience as they tell you about the many kinds of cats and about the secrets all cats ponder.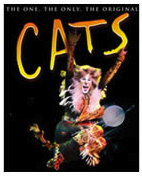 The choreography and the movements of the actors play into the ways of the cat. Every movement is feline, graceful, and nimble. Munkustrap, a large grey Tabby, has this twitchy playfulness when he introduces Jennyanydots that makes you believe you are watching an overgrown, bipedal cat instead of a human.  Every time the actors, turn their head or move across the stage you see how much influence cats have had on the production, Feline mannerisms are in every aspect of the play. Cats plays off the secretive ways of the cat, their playful energy, and their contemplative, aloof manner.
The songs are mostly fun and upbeat, along the lines of other Andrew Lloyd Webber shows like Starlight Express and Jesus Christ Superstar. However, the moving song "Memory" has a melancholy tone and powerful delivery that is reminiscent of The Phantom of the Opera.
The characters are fun and different, from a Rock and Roll feline to a pair of thieves, a railway cat to a member of the aristocracy. My favorite has always been Mr. Mistofeelees, the original conjuring cat, who has a playful self-assured personality and a fun song. Everyone can find a favorite cat among the ensemble or one that is just like their cat.
Don't worry, you don't need to a cat-person to enjoy Cats. Personally, I don't like the animal, whenever I'm around one I tend to get scratched or bitten, but the costumes, songs, and choreography of Cats let's me overlook the fact that I am a dog-person and allows me to enter the world of Cats. Every member of the family will enjoy Cats and it is a good play to make a child's first foray into Broadway.
Cats will run at the Straz Center between until August 15, 2010 with tickets starting at $43.50. Tickets may be purchased by calling 813.229.STAR (7827) or 800.955.1045 outside Tampa Bay, in person at the Straz Center Ticket Office or online at
www.strazcenter.org
.
Hope you guys enjoyed the show as much as I did, and be sure to check back soon for my latest arts and culture in Tampa Bay related theatre visit! MOre news on things to do in Tampa Bay coming up shortly!