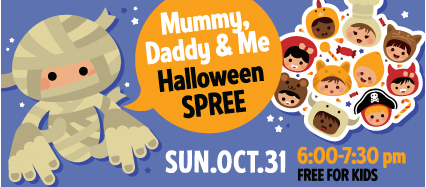 Listen up Tampa Bay; I have a sweet Halloween update. Lisa here with exciting news from the
Glazer Children's Museum
.
Halloween is right around the corner, and the Glazer Children's Museum is joining in on all the fall fun. If you have not been to the museum yet, this is a perfect excuse to enjoy a fun filled evening of tricks and treats.
The Glazer Children's Museum is hosting Mummy, Daddy & Me Halloween Spree on Sunday, October 31st. It is FREE for children, and only $8 for adults who are members and $12 for non-members. The event starts at 6pm and lasts until 7:30pm. They are going to have lot of fun traditional Halloween activities. You can bob for apples, play Halloween games, participate in the costume parade, or listen to some spooky stories from around the world. They will also have candy and non-candy treats. Children are encouraged to dress up, and so are adults. But please be mindful of their costume rules.
The Glazer Children's Museum has only been open for a short time, but is already one of the most popular Things To Do In Tampa Bay. They are located right next to the Curtis Hixton Park, at 101 W. Gasparilla Plaza in downtown Tampa.
This will be a neat family Halloween event, so come on Tampa and enjoy one of the new and exciting Tampa Florida attractions.