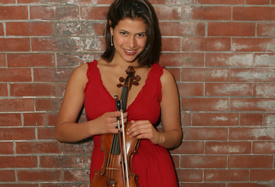 Hey gang...Travis back with more great things to do in Tampa Bay and Tampa Bay entertainment news from the Florida Orchestra. 
Singled out for her "passionate" and "virtuosic" playing by The New York Times, Elena Urioste performs Mozart's melody-rich Violin Concerto No. 5, Turkish, in a night that includes Arvo Pärt's mystical-toned Fratres and Prokofiev's musical telling of Cinderella.
It happens on Sat, Apr 17 at 8 pm at the Progress Energy Center for the Arts - Mahaffey Theater, and again on Sun, Apr 18 at 7:30 pm at Ruth Eckerd Hall. 
Tickets: $20, $30, $43, $53, $67, and for more info, just visit http://www.floridaorchestra.org/event_info.asp?id=26&utm_medium=email&utm_source=peer360&utm_campaign=AprilMediaCalendar&utm_content=0910OfNoteEmailHeader
Plus, all Masterworks programs (like this one) offer a pre-concert talk about the music and the composers in the concert hall beginning one hour prior to curtain, so get there early! 
See you back here for more Tampa Bay area events.