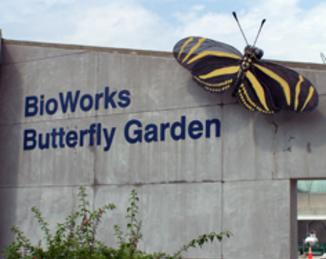 Hey gang!  If you're a mom...or want to do something special for your mom...then listen up because I have a great Tampa Bay area event for you right here!  MOSI is hosting a Mother's Day at the MOSI butterfly garden event for everyone in the area (and out of the area). 

It's May 9-10 and reservations are required...so call (813) 987-6000 to make them now.  Here are the details...

The Mothers' Day Tea at MOSI includes a high tea service, a special gift from MOSI's gift shops, admission to over 450 hands-on exhibits and one standard IMAX® Dome Theatre film including a unique opportunity to sip tea surrounded by free-flying butterflies in the BioWorks Butterfly Garden.

The Mothers' Day Tea will be held on May 9 and 10, with seatings at 11 a.m. and 1 p.m. Price is $24.95 for adults, $19.95 for children 12 and under.

With a total size of over 400,000 square feet, MOSI is the largest science center in the southeastern United States, and home to the only IMAX® Dome Theatre in the state of Florida. Kids In Charge! The Children's Science Center at MOSI is the largest children's science center in the nation. Disasterville, featuring WeatherQuest, combines education and 10,000 square feet of interactive exhibits on the science behind natural disasters.

Now, how much fun does this Tampa Bay entertainment sound???  Make sure you make your reservations now so you don't miss out on all of the fun! 

And keep checking back for more great things to do in Tampa Bay!