Today, the highly anticipated MythBusters-The Explosive Exhibition opens at MOSI making it an exclusive Florida engagement.  The exhibition features hands-on, interactive experiences for guests of all ages by combining scientific facts with innovative, family-friendly displays.

"Walking into the exhibit is like walking into the MythBusters shop, but it smells a lot better than our shop. This is the closest experience of being a  MythBuster  you will have," MythBusters TV star Kari Byron said.  
The exhibition includes live demonstrations on topics like flight, friction, gravity, speed and of course (Kari's favorite) explosions!  BOOM!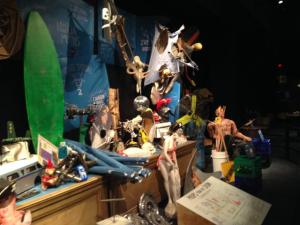 There is plenty to explore in the exhibition.  Begin your journey by exploring the Blueprint Room and discover the real-life operations room of the MythBusters' iconic set.  Filled with gadgets, props, video and, of course, blueprints used by the hosts to explore the myths on the show.
Next up, the Workshop.  This is the place where guests turn into the real investigators and use real science to test myths.  Does toast really always land buttered-side down? Do you get more wet running versus walking in the rain (whaaaaaat, could of used that info this week…)? Find out by experimenting yourself and taking a walk through the exhibition's rain chamber!
Last up on your MOSI MythBusters journey, is the LIVE MythBusters Demonstration Stage.  Here guests have the opportunity to view and participate in live science demonstrations and dissect myths with the help of a team of energetic MythBusting facilitators.  Want to test your reaction time with a paintball coming at you full speed? Find out if you need .1 seconds or .7 seconds to dodge the "bullet".  Another fun experiment in that area is the Tablecloth Chaos.  Experiment by pulling a tablecloth out from under a set of dishes without spilling anything. Seriously, SO FUN and worth the laughs of people passing by.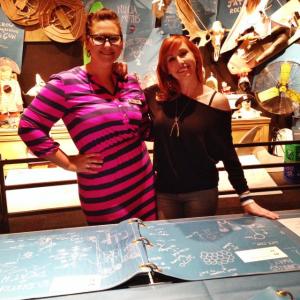 This morning I got a chance to chat with MythBusters TV Star Kari Byron who is in town today for the opening of the exhibit.  Oh yeah… if you read this super-fast or if you have been hearing us talk about it all week on social media, you can go and meet Kari (coolest chick ever) and get her autograph today from 4 p.m. to 7 p.m. at MOSI.
Anyways, Kari might be one of the coolest geeks I have ever met.  Her red hair matches her fiery curiosity and looking at her you can see why she is so popular on Wednesdays for #WCW (woman crush Wednesday) on Instagram.  She was meant to be a MythBuster at an early age.  She told me a story about how at the age of 5 she was experimenting on her sister and trash chutes and doing 360's on their swing set.  She even enjoyed using dolls as crash test dummies.  We also talked about lots and lots of explosions...  She showed me a few examples in the exhibition, one that was really cool involved coffee creamer (who knew it was so explosive right?).

If you don't have a chance to get down to MOSI tonight to meet Kari, I completely recommend planning to go sometime while it is here in Tampa.  This will be the only time you will get to see this in Florida and this exhibition totally tops my must-see, must-do list! The exhibition is open every day and here until May 8th.  Ticket prices for MythBusters: The Explosive Exhibition are $24.95 for adults, $21.95 for seniors (60+) and $19.95 for children (2-12) and include admission to either MOSI's permanent exhibits OR a documentary IMAX film.  For more information visit: www.mosi.org