Hello Tampa Bay, Alex here to let you know what is happening at MOSI this December.
Homeschool Science Fair: December 8, 2011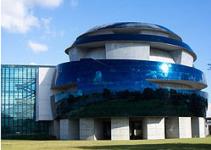 10 a.m. – 12 p.m.
Experience the thrill of scientific discovery by creating a science fair project based on your interests. Take part in the science fair workshop to launch your curiosity on an exciting path where you will learn the winning strategies needed to research, devise experiments and present innovative science projects. Celebrate your accomplishments with educators, science professionals, family and friends on the day of the fair. Let your science fair project be your inspiration towards an exciting world of possibilities. Prizes will be awarded! Ideal for ages 6 and up.
Program fee: $27 per project                                                                                
MOSI member: $20 per project
MOSI is also hosting some fundraisers throughout the months of November and December. Read below to find out how you can participate.
Feeding America: November 1- December 26
Help fight hunger in the U.S. by donating three non-perishable food items and receive a FREE child general admission to MOSI.
Teddy Bear Round-Up: November 25- December 20
Free child general admission with a donation of a NEW teddy bear.
May not be combined with other offers. Excludes special engagements and SkyTrail® Ropes Course. Other restrictions may apply. Valid Nov. 25 – Dec. 20, 2011.
Enjoy the Science Fair and take part in these great fundraisers.
Check back with us to find out information on Things To Do in Tampa Bay and to see what is happening at MOSI in January.