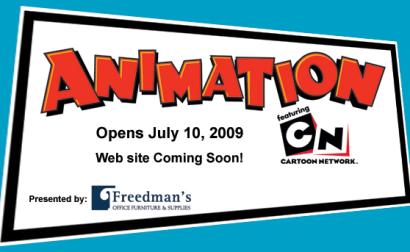 Hey gang...Travis here with some cool Tampa Bay entertainment options for you.  I mean, if you are anything like me, then you'll love this stuff.  MOSI is coming out with a new exhibition that you have to make it out to.  We've mentioned in an earlier blog, but here's the info that we just got from them...

Museum of Science & Industry (MOSI) visitors will soon step into the exciting and visually rich world of animation when the 6,000-square-foot, highly interactive exhibit ANIMATION  featuring Cartoon Network, opens on July 10, 2009.  ANIMATION is presented by Freedman's Office Furniture & Supplies.

The ANIMATION exhibit will be on display at MOSI from July 10 through September 7, 2009. In ANIMATION's stimulating and fun environment, visitors explore animation from concept to finished product — from storyboarding, character design, and drawing techniques to movement, timing, filming, and sound. Larger-than-life graphics of popular Cartoon Network characters provide a colorful backdrop to the exhibit, which also explores the history of animation and features a screening room and a cartoon museum.

The six thematic areas in the exhibit include:  History, Animation Studio, Art in Motion, Science Laboratory, Sound and Stage and Cartoon Museum

Several exhibit areas feature digital slide shows of real animators working in the Cartoon Network studios. Visitors will learn more about the skills and training needed to pursue an animation career.

If you want to learn more about the different thematic areas and more about the exhibit overall, head over to www.mosi.org/animation.html. 

And remember to keep checking back here for more great things to do in Tampa Bay!  We'll keep is coming as it comes to us!!!!