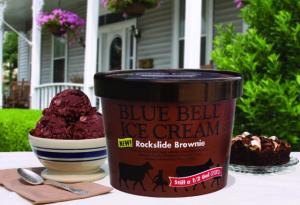 Celebrate National Ice Cream Day at MOSI (Museum of Science & Industry)! On Sunday, July 21, MOSI guests will be treated to hand-dipped Blue Bell Ice Cream (while supplies last). Blue Bell will be serving the ice cream, included with MOSI admission, from noon until 2 p.m. in the Grand Lobby.
While you're there, you can watch MOSI's InterActors demonstrate the Science of Freezing with a cryo freezing demonstration, using liquid nitrogen. It will also take place in the Grand Lobby.
MOSI visitors will have the opportunity to try Rockside Brownie, the newest Blue Bell flavor, on National Ice Cream Day. Rockside Brownie is a dark chocolate ice cream with pieces of chocolate brownies, miniature marshmallows, chopped almonds, pecans and walnuts, all surrounded by a rich caramel swirl. For those who prefer a more traditional flavor, Homemade Vanilla will also be served.
For more information, call (813) 987-6000 or visit www.mosi.org. MOSI is located at 4801 E. Fowler Ave., across from the University of South Florida.