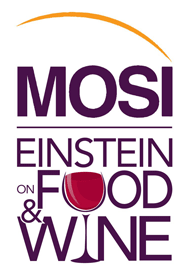 Hey everyone.  Travis back with some great Tampa Bay Entertainment information for you.  In fact, this is one of my favorite events of the year, so you may want to pay attention. 
On Saturday, Feb. 26, the Museum of Science & Industry (that's MOSI) will host it's 16th annual Einstein on Food & Wine event, where assortments of wine will be offered to all wine lovers.  This means, if you enjoy wine, food, and music (and maybe supporting a worthy cause through a silent auction), then you NEED to attend this event. 
70 vintners are to be featured with a variety of wines, including reds, whites, champagnes, domestic and imported.  Delicious food and dessert from over 30 different local restaurants are also going to be available, including:  The Melting Pot and Ruth's Chris Steak House. 
Here's the benefit part of this event - along with food and wine, a silent auction will be held, with proceeds to benefit MOSI's educational programs. 
VIP tickets can be purchased for $125, which allow guests to arrive early and get the party started at 6 p.m.  PLUS, the VIP guests will have access to an exclusive VIP exhibition and enjoy valet parking.  A value pack is offered for VIP groups for $1,000, which includes 10 VIP tickets and 5 VIP Valet parking passes.
Einstein on Food & Wine tickets are $60 for members, $70 for non members and $80 when purchased the week of the event.  The event is open at 7p.m. to all guests. Guests must be 21 years or older to attend the event.
For more information, or to purchase tickets, call (813) 987-6000 or visit www.mosi.org. Hopefully I'll see everyone out there. 
And we'll see you back here for more great things to do in Tampa Bay and Tampa Bay area events.