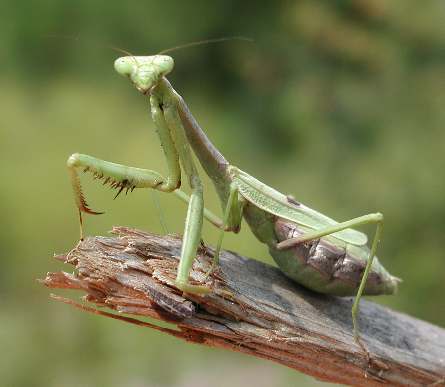 Hey everyone.  Travis back with more great Tampa Bay area events for you to participate in.  We are heading back out to MOSI (www.MOSI.org) to bug out with their new exhibit! 
MOSI will open its doors for an insect invasion when it hosts Harry's Big Adventure: My Bug World on Saturday, Feb. 19 through Tuesday, May 31. (so you'll have some time to go see it...but don't wait too long). 
The exhibit, which was developed by national pest control company Terminix, is a multisensory experience that immerses visitors into the world of bugs. Harry's Big Adventure: My Bug World! is hosted by Harry, a Chinese praying mantis, and his insect friends. It features live bugs, video, audio, games and more and is designed to give spectators an up-close view of nature and a new perspective of the role insects play in our environment. 
Harry's Big Adventure: My Bug World! takes visitors on a unique journey through the habitats, sights, sounds and social structures of some of the ecosystem's smallest, yet most important, contributors. Guests get an opportunity to explore freestanding habitats like a cropland, forest, meadow, swamp and even a house to see how insects and arthropods impact their surroundings, the environment and ultimately human lives.
Special weekend programming will feature a live insect petting zoo, cricket spitting competitions, roach races and a bug chef making tummy-tickling treats with bugs as the main ingredients hosted by Terminix.
In addition, MOSI has other bug-related events planned throughout the spring, including a butterfly expo, VW Bug car expo, bug chef cooking competitions, bug mural art activities and representatives from Grow Financial on-site to sign kids up for their Bugg Club, a program that uses games to teach children the A-B-C's of saving and budgeting so they grow up knowing how to manage money wisely.
The Bugg Club gives children many of the resources they need to learn, and it encourages the habit of saving early in life by rewarding children for making regular deposits to their Youth Savings Accounts.
Also featured in MOSI's Bugging Out experience will be displays of artwork from Jennifer Angus, a Canadian artist best known for her large-scale installations featuring arresting patterns of petrified bugs, and the IMAX film Bugs! A Rainforest Adventure. 
Jennifer Angus's work is composed of insects pinned directly to a wall in repeating patterns that reference both textiles and wallpaper. Bugs! A Rainforest Adventure allows viewers to explore the extraordinary hidden world of insects, where a leaf weighs more than a car, raindrops feel like exploding hand grenades and a blade of grass soars like a skyscraper.
Shot on location in the Borneo rainforest, Bugs! brings the beautiful and dangerous universe of its tiny stars up close and personal with cutting-edge technology that magnifies them up to 250,000 times their normal size.
Harry's Big Adventure: My Bug World! will be open during regular museum hours: Monday through Friday, 9 a.m. to 5 p.m., and Saturday and Sunday, 9 a.m. to 6 p.m. Entrance to the exhibit is included in the museum admission.
I don't know about any of you all, but I will definitely be heading out for this one...at least once!  I hope to see you there. 
And keep checking back here for more updates about great Tampa Bay entertainment options and other great things to do in Tampa Bay.