Ok, I'm back and plugged in so maybe I can get this session completed!
 
Now, where was I?. . . .
 
We really haven't seen any of the other 25 countries represented in the World Championships yet.  We did see one other team practicing. . . we think the Filipinos...they looked very sharp... hopefully they're thinking the same thing about us!  How could they help not!
 
After practice we loaded back onto the buses and took the hour drive back to the hotel.  Quick showers and several of us, all the Florida crew (Me, Pam, Dan, Marc Applewhite (Miami), Paul Clermont (Miami) and Simon Shum (Miami)) and a couple other team members headed back into Prague for dinner and a little sight-seeing with the night lights on in the city.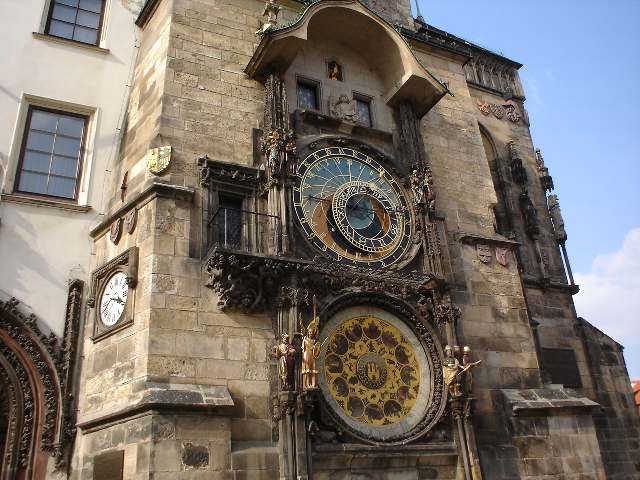 From the metro we headed into downtown, saw the famous Astronomical clock and some of the other sights before we started searching for a place for dinner.  We found a quaint little restaurant and ordered traditional Czech fare.  Remember, we're on strict athlete diets (yea, right! Don't tell Coach Bob.).  Several of us ordered goulash with mushroom dumplings. 

Outstanding!  Probably not what the coach would have ordered for us.  Simon took on the task of tackling the formidable entre called:  pigs knuckles! Basically it's a huge bony hunk of a pig's leg served on a spit.  It took all of us to figure out how to get the meat off the bone!  We were seriously tempted to just lean over the spit and begin gnawing! 

Don't worry, we didn't!  Of course, we were a little thirsty after all that practicing earlier in the day, and the ONLY thing they had to drink was Czech beer.  (At least, if asked, we're telling Coach Bob that's all they had!).  Paul put us all to shame by downing the double giant mug before the rest of us were well into our half pints!  It's now close to 10:30pm and we still have sight seeing on the agenda.  We head toward the famous Charles bridge all lighted, beautiful and with the lighted Prague Castle in the background.  Words are hard to describe how awesome the sights really are.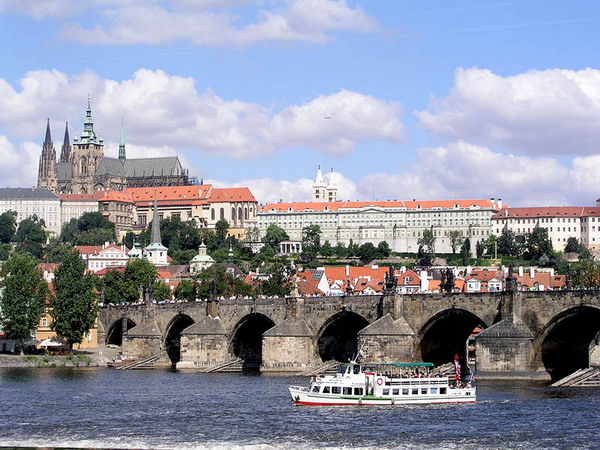 Eventually, about mid-night we land back at the hotel and finally after maybe the longest day in my life...  lights out!!!  Just for the record, we were instructed to "stay up late" to help with the jet lag adjustment!  I think we complied with our international competitive spirit. . . don't you agree!  Already, we're exceeding expectations.
 
Ok, in all seriousness.   This whole thing is surreal!  We can't imagine we're actually here and about to compete on the world level.  This must be some kind of dream.  Somehow, we're not in Kansas anymore.  But like Dorothy, we're a little homesick missing everyone back at home (I've called home to my wife Cindy and my kids no less than half a dozen times) and back in Tampa.  Plus, we need updates about the Tampa Bay Rays baseball, and other Tampa Bay area events, so let us know! 

We know how much support and effort went into this by so many folks and that is not going un-noticed or unappreciated by us.  Thank you everyone back home and in Tampa.  Racing starts on Wednesday and we expect to be sending great results back home.
 
It's about 12:30pm here, you guys are still in bed, and I'm heading back to change into practice clothes as I have double practice sessions this afternoon.
 
Stay tuned...Phil