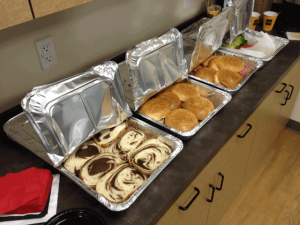 Hey there folks! Day two for us here at the Social Media Command center and we are hard at work answering your questions about things to do in Tampa Bay and so much more!
With all of that typing, tweeting, facebooking and instagramming, as you can image we work up quite the appetite over the course of the day!
Today we had lunch provided by the Palm Restaurant in the lovely westshore district! As you can see to the right here they were gracious enough to fill our bellies with some delicious eats and I don't know about the rest of the crew, but I am stuffed!
If you haven't had a chance to dine at the Palm, I suggest you make it over there as its quite a treat! If you don't want to take my word for it, feel free to check out the awesome menu selections!
For more information on dining delights in Tampa Bay be sure to checkout our website at http://www.visittampabay.com/visitors/restaurants/