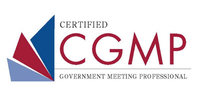 Well it is Mummert here with some exciting news!  Annabel Gabbert,  Senior Sales Manager at Doubletree Hotel Tampa Westshore Airport, has received the designation of Certified Government Meeting Professional (CGMP). This is the highest designation available specifically for government meeting professionals.  Annabel holds the distinction of being the only hotel sales professional with a CGMP in Tampa.  This certification adds to a long list of recognition during Annabel's 10 year career in hotel sales. 
Most recently, Annabel was recognized as Manager of the Quarter at Doubletree Tampa Westshore in April 2010.  "Annabel's commitment to her clients is unparalleled. She truly exemplifies what it means to be a sales professional and a partner to her clients. We are so proud of this accomplishment and we are very fortunate that she is a part of our team at Doubletree Tampa Westshore" says Adam DePiro, Director of Sales & Marketing. 
We congratulate Annabel on her certification and wish her the best as a Certified Government Meeting Professional now and in her future.  As for now, Mummert is signing off, and check back for updates on Tampa Bay meetings!