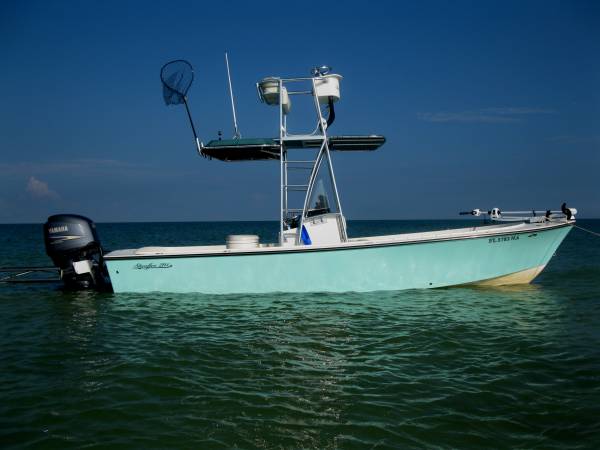 Hey everyone!  Travis back with your monthly fishing report, straight from Capt. Stewart Ames!  So, let's stop wasting time and fill you in on what's happening -
As waters warm in March/early April, whitebait arrives, redfish start to bite and the Spanish mackerel show up off of local beaches.  During the weaker tide phases when redfish are harder to catch, most Tampa Fishing excursions focus on catching the large Spanish mackerel that are abundance in 18 to 20 feet of water. 
On certain days, although present in good numbers, these fish may be somewhat reluctant to bite.   Liberal chumming of whitebait will usually solve this problem.  If fish remain finicky, remove your steel leader and switch to a 1/0 2X long shank hook tied straight to the flourocarbon leader.  Although this set up may result in more "bite offs", the number of strikes should increase. 
These fish have been averaging 2 to 5 pounds and provide great sport on medium action inshore spinning rods. A few kingfish have been sighted in this same area but haven't yet appeared in larger numbers. For those interested in a break from the mackerel fishing, there are also decent numbers of 40 - 80 pound spinner sharks following these mackerel. 
The simple act of chumming for mackerel and then catching and releasing a number of them will bring these predators into the vicinity.  Tampa fishing guides know that using a small whole mackerel or a healthy sized "chunk" under a balloon will usually result in a quick hook-up. 
Heavier conventional rods are the most effective way to fight these strong animals but hooking them on spinning rods rigged for kingfish can provide serious entertainment...as well as a 35 - 40 minute battle.  Often times, after the initial strike, these sharks may launch themselves 5 to 6 feet into the air in twisting leaps in an attempt to break free...thus the name spinner shark.  Most Tampa Fishing excursions do not specifically target these sharks but will pursue them at the customers request.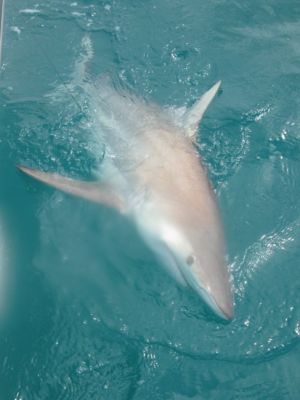 Large seatrout remain a primary inshore target during April, although high winds muddied inshore waters for much of March, compromising the fishing.  On the few days when the water cleared, there were large trout available. Although still quite willing to eat a select shrimp, these big fish can be chummed into a frenzy with live whitebait.  Once they are aware that whitebait is back in the neighborhood, they show a clear preference for it and will eat it with reckless abandon. 
A whitebait on a number 2/0 circle hook on 4 feet of 15 lbs flourocarbon leader is the rigging used by most Tampa fishing guides.  Let your bait swim until the line becomes tight, reel down and set the hook.  As many of these spring fish are quite large, using circle hooks insures that over-sized fish can be released with minimal damage.
Redfish numbers have been excellent this spring.  For the first year in the past four or five, small redfish have been everywhere.  Tampa fishing excursions producing twenty five to thirty 16 to 18 inch redfish were the norm for several weeks in March. As the month progressed, larger fish started to show up...many of them over the top end of the slot (27 inches). 
With the growth rate on small redfish being an inch a month, this bodes well for our upcoming redfish season as all of these 16 to 18 inch fish will be quality slot fish by mid to late summer.  Shrimp was clearly the bait of choice for these smaller fish but even the bigger fish showed a strong preference for shrimp until a week or so ago. 
In the last week, whitebait and pinfish, both cut and whole, have started to produce as well.   As is typically the case this time of year, redfish have started to school up and can now be found in greater numbers.  With consistent weather, April promises to offer some banner Tampa fishing for redfish on days with strong tides. 
If mullet schols are spotted in areas where redfish are known to frequent, many Tampa fishing guides will bobber a live pinfish or pinfish chunk and let it drift through these schools.  Work the area thoroughly as finding a large school of redfish traveling with mullet will provide the "fastest" redfishing you can experience.  The blisters on your hands may chase you home before the bait runs out or the fish quit biting.
One snook was caught this past month but its clear that they are still few and far between.  It appears likely that, unless you go over to Tampa Bay, snook fishing may not be on the agenda until May...when fish wintering offshore make it back to our beaches. 
Time will tell.  Nevertheless, there will be no shortage of Tampa fishing opportunities over the course of the next month and fishing will only get better as summer approaches.  Good luck and good fishing.
And that's what you need to know. And as always, keep checking back here for more Tampa Bay Fishing information, as well as updates about other great things to do in Tampa Bay and other Tampa Bay area events.