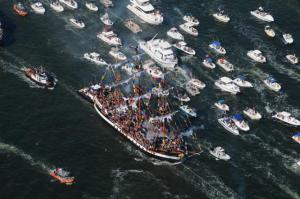 Hot diggity dog y'all! This weekend is packed with chocolate, jacked up monster trucks, cultural festivals honoring the great Martin Luther King Jr. and a pirate parade for the mini-Jose Gaspars!
Children's Gasparilla Extravaganza, Sat., Jan. 18
This one's for the mini-pirates in your life! A Tampa tradition since 1947, The Children's Gasparilla Parade takes place along Bayshore Boulevard and a family fun event you don't want to miss.  The parade starts at Bay to Bay and Bayshore Boulevard and proceeds north down Bayshore and ends at Waltrous/Orleans avenue.  The parade is FREE.  You can reserve a seat along the parade route for $30 per person (purchase online: www.gasparillatreasures.com).   The parade itself actually starts at 3:30 after a 3 p.m. Gasparilla Air Invasion along Bayshore Boulevard by United States Special Operation Jump Team.  The parade goes until 6 p.m.  The party doesn't end there… around 7/7:30 p.m. you don't want to miss the "Piratechnic" Extravaganza fireworks display.  For a full list of events and additional information visit: http://www.gasparillapiratefest.com/
Monster Jam, Sat., Jan. 18- 7 p.m., Raymond James Stadium
Rev up your engines and get it in gear y'all…. Monster Jam is back!!! If you didn't have a chance today to check out the famous Grave Digger on display at Metro PCS on Dale Mabry, Saturday is your chance to see that truck and catch all the other monster trucks at a special event at Raymond James Stadium.  Monster trucks will crush and leap over cars and even school buses (on top of nearly 4,300 tons of dirt dumped on Raymond James Stadium… that's 300 truckloads, woaaah).  Kids (even the older kids) of all ages will enjoy this event! It can be loud, for those who don't enjoy loud noises be sure to bring ear plugs.  And for the "older kids" be sure to get there early to tailgate and take pics with the drivers and trucks.  Tickets range from $15-$100 and can be purchased on ticketmaster.com.  For more info visit: www.mosterjam.com .Can't make this larger than life event this weekend, don't worry… Monster Jam will be back on Sat., Feb. 1st for another show.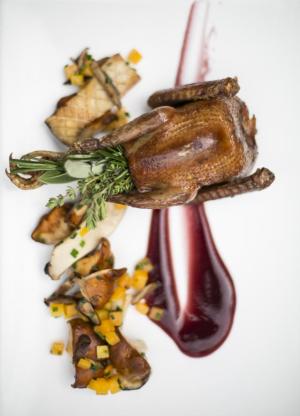 Festival of Chocolate, Fri. Jan, 17, 18 and 19, MOSI
Florida's largest all-chocolate themed event returns to MOSI (Museum of Science and Industry) this weekend for a fourth year in a row.  From chocolate truffles, cakes and cupcakes to cookies, brownies and ice creams, The Festival of Chocolate will showcase a variety of the area's best chocolate and confection companies selling tasty treats. For chocoholics looking for out-of-the-box, Willy Wonka-like savories and sides, prepare to be amazed with chocolate BBQ sauce and specialty meat rubs.  Entrance into The Festival of Chocolate is included when you purchase MOSI admission (Adults: $21.95; Children: $17.95). In case you missed my blog earlier this week (shame on you) check out my blog post on the Festival of Chocolate here: http://bit.ly/1b66Xm8 or for more event info visit: http://tampa.festivalofchocolate.com/
Epicurean Grand Awakening Weekend, Friday, Jan. 17, 18 and 19, Epicurean Hotel
Tonight at 8 p.m. one of Tampa's most anticipated weekends is set to begin.  The NEW Epicurean Hotel will present their Grand Awakening Weekend with a weekend full of events, premier food and wine tastings, culinary classes, and more….  If you missed my blog on this earlier this week (shame on you again) you can check out all the details here: http://bit.ly/1d0TUlE or for more information visit: http://epicureanhotel.com/grand-awakening-packages/
Tampa Bay Black Heritage Festival, Saturday, Jan. 18 and 19th, Curtis Hixon Waterfront Park
In honor of the great, civil rights leader, Martin Luther King Jr. and in celebration of the Martin Luther King Jr. holiday the Tampa Bay Black Heritage Festival will feature amazing, FREE musical acts on Saturday and Sunday at Curtis Hixon Waterfront Park.  Headliners on Saturday include: Ohio Players and Sunday include: Pieces of a Dream.  For more information and a look at the 10-day events calendar visit: http://tampablackheritage.org/
Don't forget to tweet us your fun weekend pics @VisitTampaBay or tag us on Instagram @VisitTampaBay