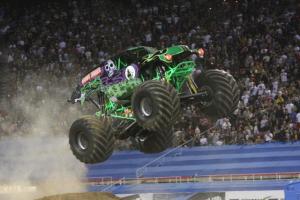 Moster Jam is back!!!
Monster Jam Truck Fans can now experience these enormous trucks up-close and personal in various locations around the Tampa Bay area.  Take photos, meet the drivers at these locations on Friday, Feb. 1 before the big show Saturday, Feb. 2 at 7 p.m. at Raymond James Stadium.  Monster Jam tickets start at $15 and are on sale now at all Ticketmaster outlets, the Raymond James Stadium Box Office, cahrge by phone at 800-745-3000 or online at www.ticketmaster.com.  For more information visit www.monsterjam.com.
Below is the truck line-up for this Friday, Feb. 1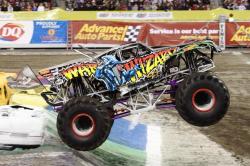 War Wizard, 2-6 p.m.
Metro PCS
21631 State Road 54
Land O' Lakes, FL 34639
(813) 948-2088
Advance Auto Parts Grinder, 2-6 p.m.
Advance Auto Parts
710 E. Fowler Ave.
Tampa, FL 33612
(813) 977-0510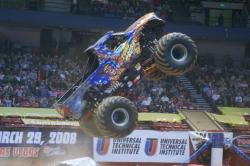 Stone Crusher, 2-6 p.m.
The Tire Choice & Total Car Care
12705 N. Dale Mabry Hwy
Tampa, FL 33618
(813) 549-8968
Lucas Oil Crusader, 2-6 p.m.
Advance Auto Parts
901 E. Hillsborough Ave.
Tampa, FL 33604
(813) 238-7187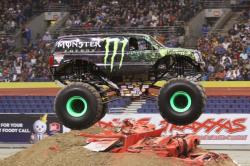 Monster Energy, 2-6 p.m.
Wal-Mart Supercenter
1505 Dale Mabry Hwy North
Tampa, FL 33607
(813) 872-6992
Wolverine, 4-8 p.m.
Bill Currie Ford
5815 N. Dale Mabry Hwy.
Tampa, FL 33614
(888) 255-1156
Stay tuned for more fun things to do this weekend in Tampa Bay!