Hey there folks! Jerm here with an update for you on a great event coming here to the Tampa Bay area, along with some trivia so you can win tickets to the
Advance Auto Parts Monster Jam® event at Raymond James Stadium
on January 22, 2011 at 7 p.m.!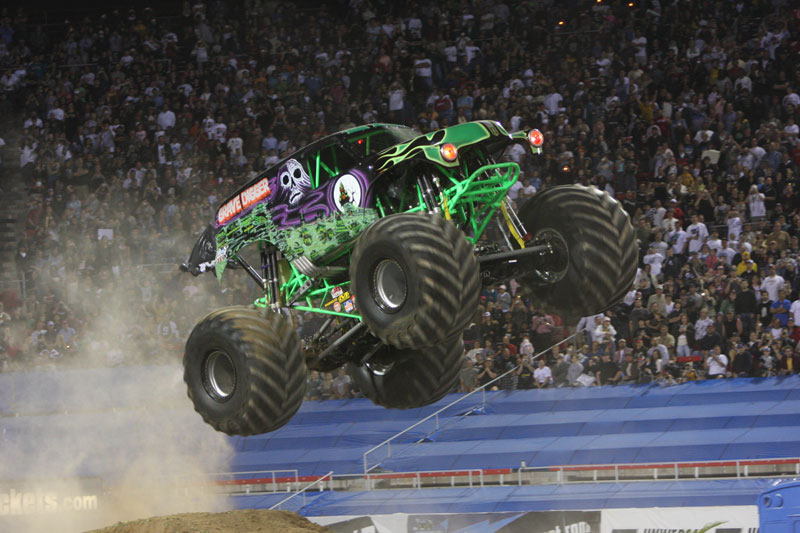 Approximately 12 feet tall and about 12 feet wide, monster trucks are custom-designed machines that sit atop 66-inch-tall tires and weigh a minimum of 10,000 pounds.
Built for short, high-powered bursts of speed, monster trucks generate 1,500 to 2,000 horsepower and are capable of speeds of up to 100 miles per hour.
Monster trucks can fly up to 125 to 130 feet (a distance greater than 14 cars side by side) and up to 35 feet in the air! That's nuts and one lucky person will get four tickets to this event!
As always, instead of re-tweeting, just answer the trivia question(s) on Twitter or on Facebook to have a chance to win. Answers placed in the comments section of this blog will not count. Unfortunately we only have one set of tickets to giveaway today so we will combine the entries from Facebook and Twitter and pull the winner from there.
Once you do that you will be entered in to win, as we will randomly draw one name total, and that person will have 4 tickets to this awesome event! Here goes:
Having conceived the original model in 1981 as a mud bogger, name the original driver of GraveDigger.


True or False: Introduced in 1979 by owner/operator Bob Chandler, "Bigfoot is regarded as the "Original Monster Truck"?



What does the acronym "USHRA" stand for?
Now, even if you don't win today, you can still get tickets to this event! for $15. For more information, log on to
www.monsterjam.com
or call Raymond James Stadium at 813-673-4300.
That's all for now, but be sure to stay tuned in for more Tampa Bay Sports related updates on Tampa Bay area events!