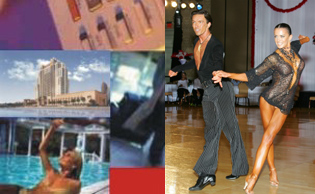 Hello there folks! Happy Monday, as Jerm is here to try and make this Monday an even better one with an awesome giveaway opportunity!
The Millennium Dance Sport Championships will be held June 21-25, 2011 at the
Tampa Marriott Waterside Hotel & Marina
in downtown Tampa.  More than 1,700 dancers are expected to compete and dance their little hearts out!
During the day, attendees will see pro/am competitors (professionals and their students like Dancing with the Stars) and youth competing, while professional couples and daytime finalists take to the floor in the evenings.  Over the five days, dancers will compete for $125,000 in cash and prizes.
Today we will be giving you a chance to win two tickets for the evening performances on either Tuesday, Wednesday or Thursdays performances. Today we'll pick three winners!
Click here
to see the schedule.
To win, you just gotta do answer the trivia questions below on Facebook and Twitter respectively, then if you have the correct answers you are entered into a random drawing! For those of you playing on Twitter,
it does increase your chances of winning if you Re-Tweet the original trivia tweet
.
True or False: Michael Chapman, organizer of the Millennium Dance Sport Championships, has been dancing since the age of 9?
The Millennium Dance Sport Championships are in what year of existence?
Name the two Masters of Ceremonies from last years 2010 Millennium Dance Sport competition.
There you have it folks! Regardless of whether you win today or not, be sure to go and check this event out!  Day sessions are from 9am to 5pm and evening sessions are from 8pm to midnight.  Tickets are: Day Sessions: $25 per day; Tuesday evening: $25 & $50; Wednesday and Thursday evenings: $50 & $100; Friday and Saturday Evening: $70 & $150. Tickets are limited, so hurry and buy yours today!
Reservations are required and
tickets are available for purchase
at 863-668-9668 or emmaoswald@aol.com.  For more information, visit
www.m2dance.com
.
Check back often for more information on Tampa Bay Events! We'll be back this evening to announce the winners! That's all for now, but stay tuned in for more updates on things to do in Tampa Bay!