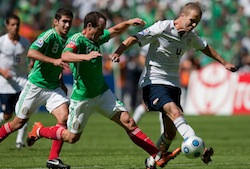 The news just keeps-a-comin about FIFA World Cup stuff folks! Big announcement today is that our neighbors to the south and fellow CONCACAF member Mexico have officially endorsed the
US Bid Committee
as they travel to Switzerland this week to officially hand over the bid.
I normally don't put quotes in my blogs, but I thought this one was pretty significant, from Mexican Football Federation President Justino Compean... "The U.S. has the best stadiums in CONCACAF. There are no comparisons," said Mexican Football Federation President Justino Compean. "The infrastructure throughout [CONCACAF] stadiums is not comparable to the U.S. So we decided we need one bid to come from CONCACAF and we are supporting the only bidder from our region."
I think those are very kind words from one of our fierce rivals in the region on the field, and it goes to show that even though we compete against each other on the field, their is great respect that exists between the teams and the federations!
Be sure to keep checking back in with us as we will be announcing more updates on things to do in Tampa Bay and other fun stuff throughout the week! Check back with your Tampa Bay team for more!
The best way to show your support for the bid, if you haven't already done so, is to head over to
www.VisitTampaBay.com/WorldCup
, or
www.GoUSABid.com/TampaBay
, and sign the petition to show your support for Tampa Bay and the USA for the year 2018 or 2022!