Hello all Jerm here with an unexpected yet awesome trivia giveaway opportunity for you guys! Our friends over at the
Florida Aquarium
are having a super cool event this weekend as they host the
World Famous Weeki Wachee Mermaids
.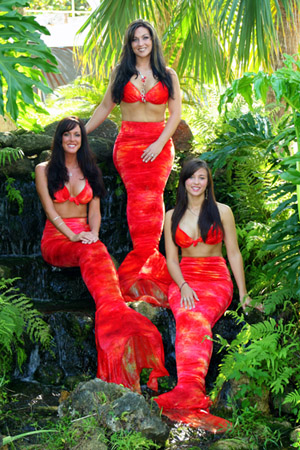 The world famous mermaids of Weeki Wachee Springs State Park in Florida, known for their grace and beauty for the past 63 years, will be performing at The Florida Aquarium in Tampa, FL for 6 shows, September 25th - 27th , 2009. This event will mark the first performance by the Weeki Wachee Mermaids in the state of Florida outside their domain of Weeki Wachee Springs State Park.
And guess who has tickets to giveaway? Yup that's right Jerm does!
Here are the rules again, just in case you forgot...1 - You have to be following us on Twitter.com (
www.VisitTampaBay.com/Twitter
); 2- Answer the question about these Weeki Wachee Mermaids  3 - You have to re-tweet the original tweet in order to be eligible to win (a lot of people forget this one, so make sure you re-tweet separately); and 4 - You have to answer the question(s) on Twitter and be the first to do so. Pretty simple huh!
Okay here goes guys...
Name the three Weeki Wachee Mermaids that will be performing at this event at the Florida aquarium.
When did the original Weeki Wachee Springs underwater theater open?
Okay there you have it! Get to answering! I have a 4-pack of tickets for this and its a one shot deal this time, so no chance to win for tomorrow! If you have won something from us within the last 30 days, you are going to have to sit this trivia out though...sorry, but I have to do that every now and then.
As always stay tuned in for Jerm's updates on things to do in Tampa Bay from me and the gang over here.