Roger Barganier | President & Creative Director
Creative Arts Unlimited
The Tampa Bay History Center's new "Treasure Seekers" permanent exhibit puts visitors right in the middle of the Age of Exploration, when pirates and Spanish conquistadors ruled Florida and the waters around it. The exhibit combines ancient and modern technology as well as offering for all ages to tell the story -- all of it thanks to the world of Roger Barganier and his team at Creative Arts Unlimited.
What did your company do here at Tampa Bay History Center?
We're a design build company for speciality environments and experiential environments. So for museums we don't build the building but we do everything inside the building. At this particular gallery we created the concept for the exhibit and then executed the environment. Everything you see in here – all the graphics, all the mounts, all the artifacts – those were designed and produced with the help of the Tampa Bay History Center and Creative Arts, and then installed by our people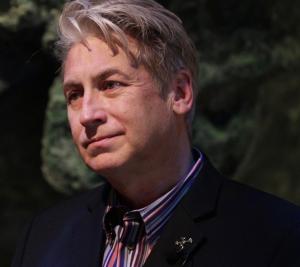 Who's your audience for this exhibit?
With this particular museum and this gallery, our audience ranges from 3 years old to 90 years old. You'll notice as you walk around there are exhibits for toddlers at the two-foot level, then there areas with intense information and advanced information for the scholarly or more interested groups. Everybody between 3 and 90 will find something of interest here.
What's your favorite part of this exhibit?
I'm very impressed with my own people that we could get a full-sized pirate ship in this space and make the room navigable and be able to put the whole story in this cubic volume. I think it's the most intense volume of information that we've ever produced.
What do you think this exhibit brings to Tampa Bay?
It's a relevant story for anybody and it's an exciting story. All kids, all people are interested in pirates. That's kind of a given thing. But it has a good story with Tampa because it's connected to the exploration period and the Spanish in the New World. And then, of course, Tampa Bay has a pirate reputation.
What do you hope people to take away?
I'd like for them to get a better idea of what was involved – go beyond the movie or the pop culture view of pirates alone. It's also a big part of the Age of Exploration, the technology of the time. And even up to modern times. It's not a static thing here. The treasury recovery area -- that is going forward with new discoveries every day.
Talk a little about the interactive quality of the exhibit.
Part of the challenge with any museum is you never want to be boring. That's the cardinal sin. So you always try to put in a little bit of something for everybody, and interactives are a big part of that. And we try to arrange the interactive from analog hands-on type of things, low-tech type of things on up to very advanced sort of things.
So this exhibit is peppered with all examples of hands-on touch-and-feel. Some of the digital mapping in the ceiling is very advanced. Instead of having a poster, the poster moves now, the graphics move. We've got holograms instead of mannequins. We've got digital mapping where you can actually navigate using three ancient navigation instruments. All of that together – it's a homogenous experience but the hands-on factor is more engaging, and you trick people into learning things. You have to learn things by touching it and experiencing it.