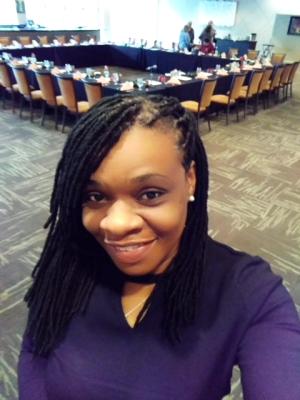 Hostess
Straz Center for the Performing Arts
Like an iceberg, the mass of a great theatrical show happens out of sight. At Tampa Bay's landmark performing arts center (the largest in the Southeast), you'll find Tampa Bay native Kitt Singleton behind the scenes and in the wings making sure the Straz's events run smoothly.
What do you do at the Straz?  Banquet Captain / Hostess / Busser / Food Runner / Decorator
How long have you been there? 10 years
Where are you from? Tampa!
What do you do for fun or hobby?   Getting together with family and friends.  My friends invite me over for parties, and then I find out I'm the one cooking.
Tell me about your job.  My main job is hosting banquets.  I oversee catered events being held in any of our multiple locations here at the Straz. I help set up and decorate if needed. I assist in managing the staff, serving guests, fulfilling any of the guests' requests. I clean up and break down after every event.
What do you like about it?  I like meeting new people, talking to them and seeing where they are from.  This also includes some of the stars that performs on stage.  I handle the backstage catering for special guests and stars.
Who are some of the stars you've helped out recently? Recently, I just hosted a cast party for The Bodyguard and had the pleasure of meeting Debra Cox and getting a photo with her. When Adam Sandler came, I met Adam, Rob Schneider, David Spade and Nick Swardson and hosted their post-show meet & greet.
How often do you get star struck? Never. After 10 years, you learn to treat them all like customers and just focus on giving excellent customer service, no matter who they are.
Who has been your favorite celebrity you've met? Tap dancer, Savion Glover. He was real down to earth, personal and cool to be around.
How has your job influenced your love of the theater? Because of how often I work, I don't get to see the shows as often as I like, but I am privileged to see all the action behind the scenes leading up to the show. The buzz you feel backstage is indescribable!
How would your life be different without tourism?  I would not have the opportunities of meeting different personalities, cultures and guests visiting from all over the world.
What's something people don't know or misunderstand about your job?  Most people don't know the amount of catering events we held a year. Whether it's a wedding or a meeting, we are always busy. So, I always wear tennis shoes when I am setting up an event because this place is so large and I walked over 12,000 steps a day and then I change my shoes before the event starts.
What's the funniest thing that has happened to you on the job?   Working an after-party event for the Opera Gala, there was music and dancing going on.  As I was walking by one of the main characters from the Opera, he pulled me onto the dance floor and made me dance for the rest of the night…"I had a great time"
What do you recommend your visitors do for fun when they come to Tampa?   I tell our guests at catered events to come back and see a show.  Sometimes they ask about our beaches and theme parks so I recommend Busch Gardens and Clearwater Beach.