Tampa Bay is filled with people who make it their job to help visitors have a good time and make great memories during their stay here. Some of them work in the spotlight, having daily interactions with visitors. Others work behind the scenes, making sure you experience the best visit you can. Either way, take a moment and thank them for their efforts. They're doing it for you.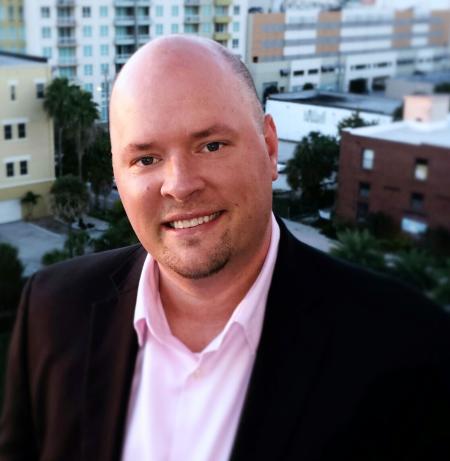 Jason Carroll
Executive Director
Friends of The Tampa Riverwalk
Over the past two years, The Tampa Riverwalk has become the centerpiece for activity in downtown Tampa. Along its 2.4-mile length, hotels, restaurants, museum, parks and other attractions are laid out like gems on a string. The Friends of the Tampa Riverwalk was created to help maintain the publicly owned bike-and-pedestrian trail, raise funds for improvements such as canopies and docks, as well as to develop festivals and other events along it. The newest of those festivals, the three-year-old RiverFest, runs this weekend (May 6-7) and will draw thousands of visitors (and quite a few wiener dogs) to downtown.
Jason Carroll is the guy charged with making all those great events happen. Carroll spent a decade with The Florida Aquarium, then a year representing Tampa Bay in Washington,D.C., before returning to his adopted hometown.
Where are you from, and how long have you lived in Tampa Bay?
I'm originally from Elmira, NY, and I've been here 12 years.
Who's your hero and why? [Former Florida Aquarium President] Thom Stork. I had the pleasure of working under Thom for 10 years at the Florida Aquarium and learned so much from him. He knew how to make everyone he encountered feel special. He had high ethical standards and one of the best reputations in town.
How did your time at The Florida Aquarium influence your work at the Tampa Riverwalk? During my time at the Aquarium, I created innovative and appealing programs that could generate visitors and revenue. I'm doing the same for the Riverwalk by expanding our membership programs, creating new events, and giving more people a reason to come down and enjoy our beautiful waterfront year round.
What do you do for fun or hobby? I like to go to the CineBistro movie theater in Hyde Park. It's an adults-only cinema that feels more like a 5-star hotel with dinner and drinks service right in your large comfy leather movie seat.
Tell me about your job. I am the key management leader of the Friends of the Riverwalk and am responsible for overseeing the fundraising, administration, programs, membership, marketing, community outreach and the strategic plan of the organization.
That's a lot of hats. How many people are on your staff?
1 full-time (me), and 1 part-time.
What do you like about your job? I love how so many people are passionate about the Tampa Riverwalk and want to be part of it. It's such an asset for both locals and tourists and has become one of Tampa's top attractions.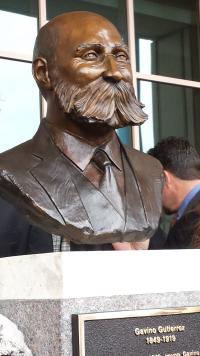 What's something people don't know about the Tampa Riverwalk? This year we will complete the Historic Monument Trail which will have 30 (24 are already completed) beautiful bronze and marble busts and monuments that tell the story of many noteworthy people and the significant events that have shaped the history of Tampa and Hillsborough County [such as Gavino Gutierrez, the man who designed Ybor City (right)]. One fun fact about these monuments is that they are created to be the exact height of the person they are honoring.
What's the funniest thing that has happened to you on the job? Right now we are in the midst of the planning for Tampa Riverfest and this year we have added a hot dog festival to the event. Part of that festival is a Wiener Dog Derby. I didn't know much about a wiener dog derby until I started planning one for Riverfest, and I was pretty surprised to learn about the kissing contest they do as part of this event. When I inquired to what a kissing contest with your dog entails, I learned that all of the competitors will need to have their dogs kiss their faces and as soon as your dog stops kissing your face, you are out. The longest kissing dog wins. If you want to see that in person come to Curtis Hixon Waterfront Park on Saturday.
What's your favorite thing to do on the Riverwalk? I like to sit at a table at the Sail Pavilion on a weekend and have a cold adult beverage and people-watch. It's a great location to really be able to see the diversity of the types of people out enjoying the Riverwalk: locals, visitors, conventioneers, athletes, kids and pets are out there each and every day.