Tampa Bay is filled with people who make it their job to help visitors have a good time and make great memories during their stay here. Some of them work in the spotlight, having daily interactions with visitors. Others work behind the scenes, making sure you experience the best visit you can. Either way, take a moment and thank them for their efforts. They're doing it for you.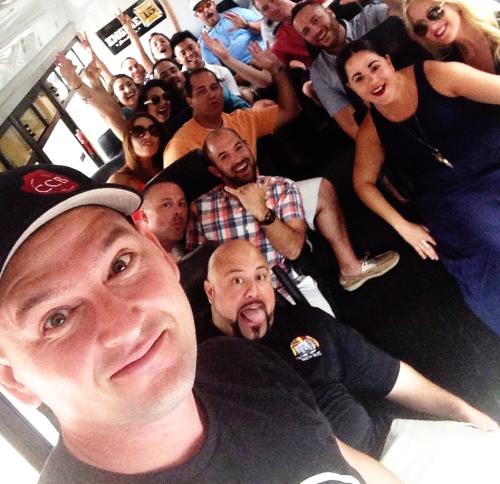 Dwinell Oullette
Driver
The Brew Bus
Tampa Bay has earned its reputation as Florida's hub for craft brewing thanks to the hard work of people like Dwinell Oulette and Brew Bus, a Tampa Bay-based company that gives visiting beer lovers a way to explore the area's endless options in a fun, social, and safe way. 
First off, tell me about your unusual first name.
I got my name from my mom's father. He passed away before I was born. Not sure where he got it from, though. It's pronounced "Dwy-null." 
Where are you from?
I was born in New Britain, Connecticut.
How long have you lived in Tampa Bay?
I moved to Florida when I was 12, and I've lived there ever since.
Single? Married? Kids?
I'm a single father to a precious female Miniature Pinscher named Syra that I am so blessed to have gotten from a rescue.
Who's your hero and why?
My hero is without a doubt is my 21 year old nephew Sergio. He had a rough childhood being uprooted from Mexico where he was born and at the age of 2 taken to Florida. He then had to get to know this new family he had never met before in Florida that spoke a language he didn't even understand. Sergio then grew up in a not so great area with not the best schools. When Sergio was 16, his mother passed away. He was dealt a pretty unfortunate life at a young age, but he has overcome so many challenges and is doing such a great job becoming a successful young man. Sergio is now going to college in Tallahassee and he is almost done with his degree. His dream is to be a police officer, and I know one day he will make a fine one. 
What do you do for fun or hobby?
For fun I like to take my CanAm Maverick out trail-riding and mudding.
Tell me about your job.
I've been a driver at The Brew Bus for two years. It's my responsibility is to safely transport guests from craft brewery to craft brewery around Tampa Bay while maintaining great relationships with them and the breweries.
Driving the same routes -- can it get repetitive or dull?
I'm sure other buses are dull to drive, but not mine. The attendants and I mingle well together and the guests usually laugh with us. I have a fun playlist for the radio. The riders will sing along together, which makes for a fun and memorable experience. I don't think I have worked an event that I didn't enjoy or have fun on. I like to "photobomb" our guests when they take pictures in front of the bus.
What's something people don't know about your job?
Most people don't know we brew our own beer that we serve on the bus.
What do you like about your job?
The Brew Bus has a friendly family feeling at work. I get to see and talk to the owner/operator Anthony Derby every day, which usually starts off with a high five. I get told thank you a lot, and feel appreciated everyday. That's a wonderful feeling that makes me always strive to do better.
What do you recommend your visitors do for fun when they come to Tampa?
I advise all my visitors to hop on The Brew Bus Local Loop on Sundays. Everybody has so much fun on this event whether they're locals from Seminole Heights or visitors.