Tampa Bay is filled with people who make it their job to help visitors have a good time and make great memories during their stay here. Some of them work in the spotlight, having daily interactions with visitors. Others work behind the scenes, making sure you experience the best visit you can. Either way, take a moment and thank them for their efforts. They're doing it for you.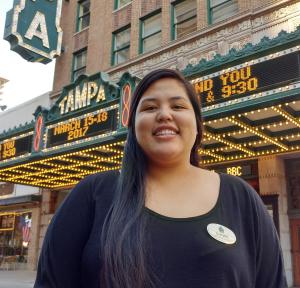 Dianne Montes
Patron Services Representative
Tampa Theatre
Dianne Joy Montes is a relative newcomer to Tampa Bay, but she has found a home and a calling as the patron services representative at downtown's historic jewel, the Tampa Theatre. Her job puts her in the spotlight for many of the activities happening at the 1926 movie palace, from special events to wedding proposals. On top of all that, she's a fan of Jane Jacobs, that great advocate of great cities and knows how to dust a peacock.
Where are you from? I am originally from Ft. Lauderdale Florida and my parents are both from the Philippines.
How long have you lived in Tampa Bay? I lived across the bay in Pinellas County for two years and I have been in this area for around 3 years.
Who's your hero and why? It's between activist Jane Jacobs, who studied urban environmental interactions and whose teachings are influencing modern day planners -- "Designing a dream city is easy; rebuilding a living one takes imagination" -- and my professor Dr. Rebecca Johns, University of South Florida - St. Petersburg. It's not all too often that you have engaged teachers who inspire you academically to be more than you thought you could ever be – she has enlightened my everyday perspectives through her teachings.   
What do you do for fun or hobby? In my spare time, I look forward to visiting Florida's natural springs, kayaking in state parks or the Bay, and indulging in Tampa Bay's great eats!
Tell me about your job. How long have you done it? I just celebrated 2 years at the theatre!
What do you like about it? I like that not every day is a normal day. One day we will have a show, another day it's a wedding or a proposal, sometimes it's a film festival, or it could be a red-carpeted movie premiere for movies such as "The Infiltrator" or "Live By Night" which we did host this pass year.  
Generally, when someone asks me where I work it goes a little something like this:
Person: Where do you work?
Me: The Tampa Theatre
Person: Oh what plays are you showing? Are you a theatre major?!
Me: (Clarifies) So I don't work at a typical movie theatre. We have one screen that plays only the best films, we host special events, and all the fun happens in a historic indoor-but-outdoor "Mediterranean Garden."
What's something people don't know about it? Being in a historic building, most people make the assumptions that our events or films reflect the year (1926) that we were built, which is not true.
We may be 90 years old but what that really means is that we know how to throw a party or two, being one of the last historic buildings on Franklin Street! We have a show or an event for all walks of life, whether it's our family classics, rewind series, live concerts, film festivals, beer/wine festivals, tours, or parties, we have something for everybody.
What do you recommend your visitors do for fun when they come to Tampa? Besides visiting the Tampa Theatre?! I recommend they come to downtown Tampa's Fourth Friday, which is an opportunity for visitors to sample many of downtown Tampa's arts venues for free. That includes the theatre! Our marquee has become such an icon for the city that even Snapchat has adapted it as a photo-filter whenever/wherever you may be in Tampa.