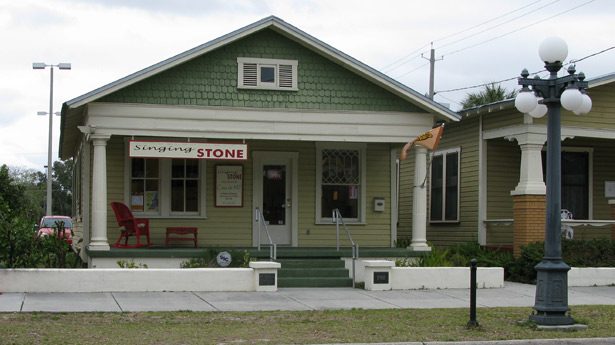 Hi everyone.  We have more great Tampa Bay area events for you to participate in, and we're heading back in to historic Ybor City this time.  The Singing Stone Gallery presents Meet the Artist, Jean Mauser on Saturday, October 15 from 11am to 3pm. How often do you actually get to meet the artist???!!!
Singing Stone Gallery & Studio currently features Jean Mauser's New Cigar Box Purses. Jean's Cigar Box Purses are an upcycled contemporary craft. Each box has beautifully embelished interior, genuine fabrics (leathers and velvets) and designs adorned with mirrors and more.
Mauser's large and small collectible boxes are big enough for most of your belongings and have multilength handles, some handles are chains or beads. AND, name-brand handcrafted designer boxes include Onyx, CAO, Romeo Y Julieta, Julius Caesar, Indian Tobac, Camacho, DaVinci, LaAurora, Playboy and Bucanero.
Jean's one-of-a-kind handbags are popular with Tampa's cigar aficionados in the artsy metropolis of Ybor City, so we know you'll love them too!
 
The Meet the Artist event is at The Singing Stone Gallery on 8th Ave. and 19th St. in Ybor City at 1903 N. 19 St., Tampa, FL 33605. As always, Admission & Parking are FREE!!!!  For more information head over to visit www.SingingStoneOnline.Com.  And of course keep checking back here for more great things to do in Tampa Bay.