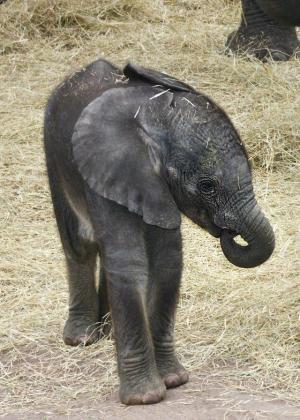 From 8,000 miles away, a family of wildlife conservationists in Swaziland, Africa, has given the Zoo's one-month-old African elephant calf her name. The Reilly family proposed the Swati name "Mpumi" (pronounced letter M-pumi), which is short for "Impumelelo," meaning success or achievement. The calf's mother, "Mbali," came to the U.S. from Swaziland in 2003 when her herd was scheduled to be culled (killed) due to park overpopulation.
Mbali and Mpumi can be seen on exhibit at the Zoo until approximately 1 p.m. daily for the near term, weather permitting. In the afternoon, the pair retires to the elephant barn to nap.
Born on Dec. 23, 2012, Mpumi is only the second elephant calf in the Zoo's history (the first birth occurring in 2005). Births in the managed population are few with just three calves born in 2012 among 40 institutions accredited by the Association of Zoos and Aquariums (AZA).
In addition to conservation efforts with this species here at home, Tampa's Lowry Park Zoo has supported acquiring additional land, anti-poaching programs and public education in Swaziland. Results to date include expansion of the Mkhaya Game Reserve by 10 percent, to promote survival of thousands of animals protected there.