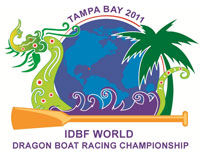 Hey everyone,Steve here from Tampa Bay & Company.  I know you haven't heard from me before, but over the next couple of months I'll be here telling you about whats happening in Tampa Bay.I'll kick this off by helping to get the word out that all eyes will be on Tampa Bay in August as the area hosts the 10th IDBF World Dragon Boat Racing Championship.  The IDBF Championship will take place on the Seddon Channel in downtown Tampa from Aug. 2-7.

It has been nearly a decade since the United States hosted the World Championship, and teams from more than 20 countries, including the United States, Canada, Russia, China, Philippines, Trinidad and Tobago, and more, are expected to arrive in Tampa to compete.  If you've never seen dragon boat racing this is your chance to experience it firsthand... and believe me, it's worth the trip to downtown Tampa.  Everyone is invited to take part in the excitement, which includes the opening ceremonies on August 2 at Curtis Hixon Waterfront Park from 7-9p.m.  Were going to kick this event off right with a parade of nations, world class entertainment and the best part is its all free to the public.
Make sure you keep checking back for more updates about the World Dragon Boat Racing Championship, along with other great things to do in Tampa Bay and other Tampa Bay area events.